By Jon Michael Kelley

Janice Sterling stared at the immense screen, focusing on a small censored quadrant in the upper right corner: a green, distant planet called Avery. Glittering like diamond dust, the Milky Way's helical rim demanded the rest of the exhibition. It would have been an even more impressive sight had the array been shone holographically, but she chose to leave it flat; rudimentary. What she was preparing to show General Maestas was shattering enough without the added dimension.
In the grid's centre, a blue neon orb: Earth.
Always placing ourselves at the centre of the universe, she thought grimly.
A tinny male voice spoke inside her ear: "The general's here, Ma'am."
Janice absently stroked the thin mic hovering in the periphery of her lips, and sighed. "Very well. Clear out all non-essential."
"Yes, Ma'am," said the voice. Then, almost instantaneously, that same voice swelled dispassionately within the vast auditorium. "All personnel below Level Six Clearance depart and immediately proceed to secondary stations." The voice repeated these instructions once more, then went silent.
The arena was deserted swiftly and orderly; a regular fire drill.
Janice let the hush settle; then said into her mic, "Lieutenant?"
"Yes, Ma'am?"
"I just wanted to say it's been a pleasure working with you."
"The pleasure's been all mine, Ma'am." A pause, then: "Ma'am?"
"Yes?"
"It kind of puts a humbling perspective on everything, don't you think?"
"You mean we're not the giants we thought we were?"
"Exactly my thoughts." Then: "He's here."
Janice turned toward the approaching footsteps, sprite and crisp on the gleaming marble. "General Maestas," she said without fanfare. She did not salute, was not required. Janice was of civilian ilk.
"Doctor Sterling, it's always a pleasure," the general said, extending a hand. But there was no smile on his face, nothing to indicate that he found their date pleasurable at all. Brilliant accoutrements of loyal service cloaked his right breast, jingling as they shook hands. "I understand you have some home movies to show me?"
"Have a seat." Janice gestured toward a chair at a nearby console. "What you're about to see is quite … sobering."
Maestas nodded. "How long have you been sitting on this?"
Janice shrugged. "A few months."
"A few months?" The general's eyes widened. "That takes some seriously large balls, doctor. Are you aware of that?"
Janice smiled. "Funny you would use such an analogy."
His eyes narrowed. "Funny how?"
Janice engaged her mic: "Lieutenant, enhance C-34 to full screen." She turned to the Maestas. "We received this data from a deep probe, just a few light clicks outside our galaxy." She directed the general's attention to the screen; now a vast black curving window filling with stars. A green sphere slipped quickly into view.
Janice cleared her throat. "The planet there is Avery. Unoccupied, it's one of six in that system. You'll want to watch this."
Maestas leaned back in his chair; clasped his hands behind his bald head. A relaxed posture, but Janice wasn't buying it. He was here at the behest of the Council, and being anywhere under such auspices would have provoked unease in the most stolid commanders.
Janice continued to watch the general, wanting to see his reaction. She was betting that he, cynical as they came, would never come close to accepting the truth no matter how damning the evidence.
Objects swam into view. Maestas slowly leaned forward, hands now firmly on his knees. He was staring raptly at the screen. "My God," he whispered. "Those look like—"
"Yes," Janice said. "That's exactly what they are."
The general was staring dubiously at Janice, an awkward smile capturing his face. "Certainly you're not serious. I mean, sure, they look like… But there's obviously some other … celestial explanation. Has to be."
"How I wish there were," she said. "But there's no mistaking them, nor their intent."
The general gasped. "Look at the way they're undulating." Many more were now coming into view, swarming the screen from all sides, racing toward Avery. "Good God, how many are there? How large?"
"Thousands," Janice said. "And we estimate their lengths to be somewhere−" She paused, sighing. "Relative to the planet's size, given its obvious role in this, they're functionally proportional."
"Bullshit!" he shouted, bolting from his chair. He ran a hand across his shiny pate, laughing nervously. "This is ridiculous. I know what you're implying and it's absolute garbage. I can't believe that you and your elite staff have allowed yourselves to be duped so easily. Christ! Those … things are not what they appear to be!"
She nodded. "Just watch what happens to Avery, general. Watch."
Seconds later hundreds of tadpoles descended upon the planet, then after moments of intense bombardment the image zoomed to show the first one to wriggle through and completely disappear beneath its surface. The remaining tadpoles immediately scattered, regrouped a short distance out, and then were quickly lost from screen.
Cautiously, Maestas eased himself back down into the chair. "Oh my dear God."
A dull glow now radiated from the planet, its continents and oceans steadily evaporating into translucency.
Janice allowed the general a moment to digest the event, then said into her mic, "Lieutenant, forget the time-lapse sequencing we'd planned and just bring up the most recent data from Avery."
For a brief moment the giant screen went black, then a round, golden image appeared, fuzzy and indistinct.
The general once more leaned forward, squinting.
"Increase magnification, please," Janice said.
The ball instantly expanded, revealing greater clarity and detail.
"This is Avery as of seventeen-hundred hours yesterday," Janice said. "Approximately nine weeks after conception."
"Can't be," Maestas whispered. With great effort he rose again from his chair, pointing shakily at the image. "Those are land masses. Atmospheric distortions of some kind. Those red bifurcating lines are simply ancient canals in infrared…"
Still in denial, thought Janice. She grabbed Maestas by his forest-green lapels and shook him. "It's a foetus, general! A foetus!" She raised her chin to the screen. "Don't you see? We were created in His own image!" She let go of him. "All the while we've been thinking ourselves grand when we should have been thinking minuscule."
As Janice turned away, Maestas grabbed her arm. "How long before they reach Earth?"
She shrugged him off, laughing. "What makes you think they're coming here?"
"The Council wouldn't have sent me if there wasn't a perceived threat."
Janice removed the communication apparatus from around her head. "Alright. We have until spring. You know, that season rife with romance? Ironic, isn't it? She placed her headset on the console and walked away.
"What do I tell the Council?" Maestas yelled after her.
Janice stopped; turned. "Just tell the truth, general."
"What's the truth?"
Feebly, she smiled. "Just tell them that God had an orgasm."

About the Author
Jon Michael Kelley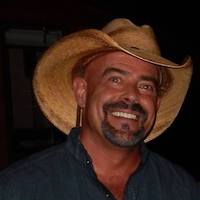 Jon Michael Kelley is an internationally published author and novelist of literary speculative fiction.
His debut novel Seraphim from Evil Jester Press received stellar reviews, and he has been anthologised with such genre luminaries as David Morrell, Ramsey Campbell, Stephen King, Jack Ketchum, John Skipp, and Thomas F. Monteleone.
His short fiction has appeared in a variety of publications, to include the multiple award-winning anthologies Chiral Mad, Chiral Mad 2, and Qualia Nous (2014 Bram Stoker Award Finalist for Best Anthology) by Written Backwards Press.
He has also worked with music industry professionals as a collaborative lyricist, assigning copyrights of numerous authored song portfolios to a prominent New York City producer. Jon currently exhumes his inspiration from a small gold mining town in the mountains of Colorado.