By Natalie J E Potts

The song from the brandy glasses hadn't yet finished when the next quake rolled through, setting them ringing again. Diana was alarmed at how quickly she was getting used to the movement of the ground. There was only so much adrenalin her body could respond to before her cell receptors were full.
"The new scans show a massive increase in the core's speed," said Tarren, the geek from geoscience-something. Diana could no longer remember all the experts they had called in. She had to report back to the Prime Minister in less than five minutes and at the moment she had no idea what to tell her.
"How can the core speed up? Hasn't it been slowing for the past few millennia?" Diana asked, with only a vague recollection of her high school science class.
"We don't know how it's possible, how any of this is possible," Tarren said. His eyes were downcast. Not having the answers was clearly a new experience for him. They were all in uncharted territory now.
Everyone jolted toward the wall and the glasses rolled off the table, hitting the dirt of the tent floor. No-one wanted to be inside a building right now.
"Guys!" The tent flap was thrown aside as Branson, from secure comms, ran in. He clutched a laptop to his chest so he didn't do any damage to it if thrown to the ground. "Look at this." He slammed the computer onto the table and immediately played a grainy image of something that looked like a tadpole. "NASA just released it," Branson said, as if that rendered the blur more readable.
"What are we looking at?" Diana asked, a little annoyed that she had to.
"Mercury. Or should I say, what used to be Mercury."
"The planet?" Tarren said. Diana had been thinking of the liquid metal, because that's what the blob looked like.
"Yes, it just collapsed, and this… thing came out of it."
Diana looked more closely and realised the image was on a loop. The planet seemed to break open before expelling a teardrop-shaped blob. Diana could now understand why Branson had called it a thing; the blob changed direction in space. Twice.
"Is that a craft?" Tarren asked.
Diana knew he probably didn't have clearance to see this, but he seemed to be dredging up more useful questions than Diana could manage. She'd let him stay. Besides, she had a feeling clearance wouldn't be an issue for anyone soon enough. The ground rolled again, but now they had found their sea-legs and rode it like seasoned surfers.
"You think that's what's happening here?" Diana said. "Earth's core is about to explode into space?"
"Mars has started to quake too," Branson said. "Visible cracks have opened on Venus. I think it's just a matter of time before the whole solar system breaks down."
"No… Not a solar system," Tarren said, pointing at the screen as the blob escaped and squirmed away yet again. "It's a clutch, and our egg is about to hatch."

About the Author
Natalie J.E. Potts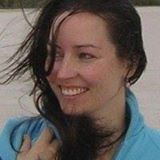 Natalie has tried everything from Air Traffic Control to Zoology, but writing has been the one constant across all the years.
She had her first publication in Antipodean SF and can still remember the heady excitement of that first acceptance.
She is eternally grateful for that first flush of encouragement, and is proud to be one of the regular contributors.