By D.M. Woolston

Firelight images dance on surrounding oak trees under a clear midnight sky. The campfire would've made for a rather pleasant meeting, but this is no party as Michael is about to be hanged by the neck until dead. He strains from atop his horse. The taught rope ticking with tension.
"I'm giving you one more chance to quit this province. You're not needed here, brother," I say.
He grins from high above. The noose making his face flush to the color of red wine. "This realm needs me more than you'll ever know," he says, "how 'bout you let me down and we head over to the Long Branch for a drink?"
I answer with a slap on the horse's ass and a click of my tongue. Michael's body moves forward as the horse darts away. He's pulled off his mount by the rope and makes a graceful arc backward into a cloud of smoke and embers. I expect to see the grim expression of death in his face, instead I watch the empty noose return.
Lightning strikes in the yonder of the cool desert evening with thunder following as it echoes across the valley. I look around for Michael but he's made tracks. Instead, a sinister gash appears above. It forces the stars aside as if they are pasted to a black curtain. From the reveal of nothingness erupts a multitude of dark horsemen. Michael's brethren are loosed and descend with the deafening sound of galloping hoof beats.
In defense I invoke a prayer for a posse of my own and draw my sidearm. I sense Michael's presence but it's too late.
His powerful roundhouse kick sends me ass over teakettle into the dirt. Soon the troops I summon attack his own. Two armies collide in a frenzy of hooves and flashing red eyes. Pistols blaze across wrecked sky. I stand and feel the fatigue from centuries of repetition of the same endless battle.
My handgun is missing, but at least my Winchester 94 still clings to my back. I reach for it as a dagger buries itself deep into my neck.
Michael advances with supernatural speed. He's archangel, after all. I fall backward onto the hard pack dirt while ignoring the knife in my neck. I know not to pull it or I'd bleed out before accomplishing my mission. The only thing I can do now is pull on the sling and bring my rifle to bear. He tries to straddle me like a calf at a tie-down roping, but I kick up with all my strength sending him up and over while I unload rounds from below. His body hits a large sagebrush and doesn't stir, so I'm thinking he's a goner.
Heavens calm as the warfare above dissipates, leaving behind the acrid smell of gunpowder. I feel weakness set in when I roll to one side. My mortal coil nearly spent. I chuckle softly. Centuries of our feud makes me yearn for the End Days.
Michael is lying just a few feet away. He stirs, easing up onto one elbow despite a body riddled with lead.
"You'll never have this world, Lucien," he says. Blood leaks from his mouth and drips into the welcoming earth. "And when you're finally cast into the abyss, you're the one that won't be needed."
The last of my brother's essence drains until he dies. May be sad, but I know we'll meet to fight another day, and another day after that till time itself runs out. He was never gonna surrender. Neither will I. My claim remains on this land and all its wretched souls.
It hurts like hell as I push a final breath from heavy lungs. Blood sputters through my torn throat and past parched lips. There's a lot more I'd hoped to get done this go-round, but I have only one real regret.
Should'a taken him up on that drink.

About the Author
DM Woolston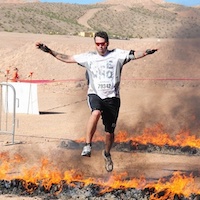 DM grew up in the wild west of Nevada, leaping across its flaming sands just for fun.
Beside other strange adventures, he enjoys running while not being chased, and writing in a variety of Genres.
What can he say... he's got a fairly short attention span. Squirrel!
But you can always find him at <http://www.dmwoolston.com>