By Wes Parish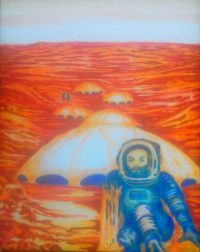 Port Lowell, Mars, 20xx, 21st of the month of Synclastic.
School was cancelled today. The next settlement over the hill from us had suffered even worse from the latest storm, and the teacher had been badly injured when her home had depressurised. She was still alive, though, but badly injured so Mum made us send her a get-well-soon email.
We sat down around the table for brunch, still in our pressure suits, but with the helmets open. Our place wasn't that badly hit, only some parts whittled down by the storm, and those likely to blow if there's any more storms any time soon.
So Dad's off to the Central Commissionary to — as Mum puts it — put us further in the pockets of the Company, even deeper in debt than before.
At least the generator hasn't packed in. It'd take over a year before the Company could send us a new nuclear power generator. And we'd freeze to death in the meantime.
Mind you, power gets pretty low after a fresh Martian wind storm. We do manage to get satellite pictures, and man, you can hardly see the ground at times.
Like now. We spent the night huddled together in the Shelter Shack, wrapped up warm, hoping the storm would die down.
Timmy, the youngest, he's still wrapped up warm.
I just shiver, manfully. Both my older sisters glare at me — I suppose I'm not supposed to be so staunch? But I was helping Dad before he went to the Commissionary, climbing all over the roof and checking everything was alright. A few major things weren't, and Dad swore. Not at me; that'd come if I didn't play my part in maintaining our home. Dad swore at the Company for their general stupidity in designing things so that they would need to be repaired with stuff from Earth...
So I feel I've got the right to be staunch and manly. I was out there while my sisters were still sleeping. But I got to thinking — what could we do to make the home base safer and not so easily damaged? And could we reuse some of the damaged stuff instead of throwing it away?
"Quit daydreaming," Mum says, "and eat your icecream before it gets cold."

About the Author
Wes Parish
Wesley Parish is an SF fan from early childhood. Born in PNG, he enjoys reading about humans in strange cultures and circumstances; his favourite SF authors include Ursula Le Guin, Fritz Lieber, Phillip K. Dick, J.G. Ballard and Frank Herbert. He lives in Christchurch, NZ, is an unemployed Java and C programmer, and has recently decided to become a mad ukuleleist, flautist and trombonist, and would love to revert to being the mad fiddler and pedal steel guitarist..  "Where oh where has my little pedal steel got to ... ?"