By Kat Pekin

I'm calling my new sister May.
She's almost a day old but Mama won't name her. May was meant to be a boy, the Chosen Son. The first boy born into our coven. But I secretly wished for a sister. Things I wish for come true sometimes.
The coven isn't happy at all. Our high priestess, Tala, is holding a meeting about it now in her cottage. Our new seer predicted Mama would have the Chosen Son tonight, the night of the blood moon eclipse. Instead, she had May.
I hum a lullaby to May and rock her in my old cradle. I fed her already with some Mother's Milk. A few years ago when Henrietta died in childbirth and no one else in the coven was breastfeeding, my grandma concocted a remedy to feed baby Lisette. Grandma called it Mother's Milk, and all of us in the coven know how to make it now.
Mama didn't even try to feed May after she was born. Tala used her silver dagger to cut the cord and then left the baby lying on the bed. Mama was crying for her Chosen Son while the rest of the coven left the room in shame. The midwives covered Mama up and gave her a remedy to help her sleep. The baby cried. No one tended to her. When the midwives left and Mama was sleeping, I took my sister, fed and rocked her until she slept. I'm the only one taking care of her.
'Abigail?' Mama's voice fills our hut. She pushes back the curtain to my room and sees me with May. 'What are you doing?'
'Humming to her,' I say. 'She likes it.'
'Don't spoil that thing,' Mama says. 'You wanted a brother, remember? Not that.'
I nod, hoping Mama can't tell I'm lying. A brother would have been nice, but I wanted May.
'Anyway, all is well,' Mama smiles. There's relief in her eyes. 'Tala has a solution. This child will be given to Lilith.'
My mouth goes dry. 'Why?'
Mama smiles again. 'This child is a mistake. Meant to be a son and instead… no, it must go to Lilith. Tala says by Samhain you'll have a brother to dote over.'
Tightness grips my stomach. A new brother means Mama will have to go to the Outside again. I don't like when she leaves. But the Outside is where our women have to go to get pregnant. Men can't live in our coven. That's what Tala says, but I'm not sure if it's true. I think it's one of the things she tells us that she just wants us to believe.
I reach into the cradle and touch May's tiny fingers. 'When will she go?' I ask Mama.
'Tonight. Blood moon eclipse. The coven is preparing the Hallowed Ground. Bring it there by sundown.' Mama leaves, not once looking at May.
I don't understand. The coven fears Lilith because she ruins our crops, kills our livestock, and murders our children within their mother's wombs. Tala says Lilith also controls the evil in the forest encircling our village. All the wraiths and spirits and echoes. Lilith commands them all, Tala says, because Lilith is the Queen of Demons. Lilith has made the forest too dangerous to cross, and that's why Tala sends exiles into it. Tala says no one can survive the forest.
Tala has the power of Influence. Mama says that's why she's our High Priestess. Coven leaders are only chosen from those of us who possess the power of Influence. It's the hardest power to control, Tala says. Most witches can't handle it and go crazy. But sometimes I wonder if Tala uses it to make us do things we don't want to do.
I start thinking of how mean Tala can be and then quickly try and think of something else. Mama says I have to be careful with what I think because Tala can hear me. And if Tala doesn't like what she hears, she'll exile me like she did Grandma. Grandma was our original seer; until she had a vision that Mama would never have a son. Tala said she was lying and exiled her for causing trouble.
I think of Grandma and her silver hair. She had the longest braid in the coven. Mama and I would wash it for her and then braid it back up again. I don't think Grandma liked Tala much. A day before Grandma was exiled, I overheard her arguing with Tala in our hut. Mama had locked me in the cellar, because I couldn't name all of the medicinal herbs we grow.
'I know your game, you miserable witch!' Grandma had yelled. 'I know why you have me foresee the powers of our unborn witches. The only ones stillborn are the ones I tell you will possess the power of Influence! You're bewitching those who may challenge you! You ensure they never draw breath!'
'You're confused, Gail,' Tala said, her voice calm. 'Marjorie's twins were stillborn, and you predicted Influence in neither of them. And you told me Henrietta's daughter was born with Influence, and she's alive and well.'
'So you say. But she's gone now, hasn't she?'
'Lisette is simply learning in the forest,' Tala replied.
Grandma had laughed. 'A nine-year-old learning to strengthen her powers in a forest you claim to be so dangerous it's the reason we're isolated? I know you killed Lisette.'
'You best not share your wicked views with the coven, Gail. Especially since your daughter is with child. Do you want to put strain on the Chosen Son?'
'It's a girl!' Grandma yelled. 'I saw it! My daughter will never have a son!'
'Go and lie down, Gail,' Tala said. 'You're getting old.'
And then Tala had left. When Mama finally let me out of the cellar at dinnertime, Grandma was already packing her things. She was exiled the next day.
I hear footsteps enter our hut, and I think its Mama again, but I'm surprised to see Tala pull back the curtain to my room. She smiles at me in a way that has no warmth. She sits in my rocking chair but it doesn't rock. Grandma used to tell me rocking chairs are rocked by love.
'Your mother is concerned,' Tala says. 'She feels you are uncertain of my decision about this… infant.'
I nod. I can never find my voice around Tala. I think that's her Influence working.
'This will help the coven, Abigail,' Tala says. 'We offer this child to Lilith, and she may cease cursing our coven. Our potions will thicken; our spells will fortify. We will grow strong again.'
'My sister isn't evil,' I whisper. No one talks back to Tala, least of all me.
Tala stiffens. 'Abigail, this child is not your sister. She was born as a gift to Lilith. I see that now. To ensure the Chosen Son is not threatened by Lilith, we give her this child to satiate her need. Your future brother will be born free of Lilith's grasp.'
My head screams 'No!' but the word never leaves my mouth.
Tala stands. 'By sunset bring the child to the Hallowed Ground.'
But when sunset nears I haven't moved. I don't know where to run to. I don't know which way is out of the forest. I don't know how to get to the Outside or what May and I would do if we got there.
I don't want to lose May to Lilith. I love her. She is sleeping so sweetly, how can they call her evil? I rock her cradle and hum to her some more.
I hear footsteps outside, and suddenly a crowd of people burst into our hut. Someone grabs my arm and pulls me away from the cradle, and a second later I'm in the cellar with the door locked shut above me. I can hear May screeching as the coven carries her away.
I bang on the door of the cellar roof and pull helplessly on the handles. The metal slide lock is on top; I know I can't get it out. All those times in the last thirteen years that Mama has sent me to this cellar, I've never gotten out.
But May…
I need to get to her. No one in the coven wants her. No one but me. They think she's a mistake, but I wished for her.
My fists are bloody from banging on the cellar door. I can't hear May crying anymore. They must have her at the Hallowed Ground by now.
I have to get out. I grab the handle and yank it hoping that it will loosen but it seems rusted in place. I squeeze my eyes shut and slam the side of my sweating body into the wood.
And then I feel the chill in the air and the wet grass under my bare feet. I open my eyes. My hands are still bloody and aching and I feel the heat from my grip on the cellar handle, but my hands are empty. And I'm outside. I'm right outside our hut.
I don't know how I got out of the cellar, but I can't think of anything but May. I smell burning wood and know the altar must be alight.
The dew-soaked grass numbs my feet as I run. I see the altar fire burning high into the sky. The coven all in their cloaks circled around it. I hear crying.
Tala is in her bright red cloak. She's inside the coven circle. She has one hand raised to the sky and her mouth is moving but I can't hear what she's saying. I see the shine of the silver dagger in her fist. Then she moves to one side and I see May.
My sister is wrapped in her blanket lying on the stone table just in front of the altar. Tala keeps rotating around May with the dagger raised high. I'm so close but then Tala swings the knife down over my baby sister, and I know I can't get there in time.
My toes curl in the mud and my fists ball at my sides and I throw my head back and scream louder and longer than I've ever screamed before. I feel wind surge around me, billowing my dress like I'm standing inside a storm. Something inside my chest burns and my arms extend, my closed fists open and my fingers go rigid. I open my eyes. The coven is closing in on me. I stretch my arms out wider and the whole coven are thrown backwards. Mama's hood falls as she scrambles to get to me. But I don't let her get close. I point my palm towards her and send her soaring back to the ground.
Tala blocks my path to May. 'You obey!' Tala screams, but her voice breaks and she suddenly sounds strange, like she has a really sore throat. 'You will obey!'
I step towards Tala. She steps back. I'm afraid, but not of her.
At my sides the coven is still trying to get me, but as they reach within an arm's length they bounce back like they've hit an invisible wall. I'm keeping them away; I know I am. Grandma always said I'd develop a strong orb. And now it's keeping me safe from the coven.
'She's mine!' Tala cries. 'Born for me! Her blood is mine!'
Tala retreats to the altar. She raises her dagger high over her shoulder then stabs it down over May. Before the knife hits my sister I point my finger at Tala and then the knife is in her neck. She wobbles backwards grasping her throat where the dagger is sticking out. She coughs blood down her front, and it darkens the red of her cloak.
I rush forwards and scoop up May. She's not hurt, but I can feel she's scared just like me. The burn in my chest disappears, and I know my barrier has faded away.
I see Tala crumple to the ground. Blood is pulsing out of her neck. Her eyes are glassy and focused on something faraway.
I turn around. Almost all of the coven members are huddled to the ground as if they're scared of me. Mama is among them, but I can't see her. Behind me, out of the very edge of my eye, I see a rising shadow blocking out the moonlight. I slowly turn around. Tala's empty red cloak lying on the ground beside me. Her naked body lengthens into the sky and emits a scarlet glow. Her hair extends down across her shoulders and falls like waves over her body. Her skin is so pale I can see through it, and her eyes are redder than the blood moon. Her movements are fluid but sharp. She points one finger at me. They are as thin as twigs on the branch of a dying tree.
'She's mine!' Tala roars.
But her voice is not her own.
She screams so loud it makes my bones vibrate. She's floating above the ground, her feet dangling beneath her like ribbons. I watch her, and the truth hits me like one of Mama's slaps to the face.
I know now that Tala's the reason our babies die. She's the reason the crops don't flourish and why our winters are so harsh. It's because Tala is within our coven. Hell follows Tala because she is Hell's Queen. She's not Tala. She never has been.
She is Lilith.
'Relinquish the child.' Lilith thrusts out her arms. 'Now.'
I don't. I hold May closer to me. I look at my sister and see her eyes are open. She's looking up at me.
'NOW!'
'No!' I scream. 'She's mine!'
'Hand her to me!'
I don't understand. Lilith is a demon, a queen of demons. Why doesn't she just grab for May?
Then I realise.
She can't.
The child has to be offered.
That's why she told Mama that she would have the Chosen Son. That's why Tala exiled Grandma, because Grandma knew it was a lie. If Mama knew she would never have a baby boy, then she would have loved May as I do. But Tala lied and promised her the Chosen Son. Tala knew Mama would be so heartbroken she would offer May to Lilith. But I wished for May. May is mine.
'GIVE HER TO ME!'
'NO!' This time my scream growls from deep inside me. It's a scream to rival Lilith's and it takes her by surprise because I see her falter in front of me. She floats back like I've blown a gust of wind at her. She steers forwards but my orb is up again, and this time it's strong enough that Lilith can't break through. It's so strong that I can see the blueish hue surrounding me and my sister. I look down at May and see her open eyes. Together we've made this barrier impenetrable.
It's quiet in our bubble. Lilith's roars sound as if they're coming from underwater. She tries to break into my orb by slamming herself into it at different angles. But she can't get through.
I take off towards the forest. The orb moves with me, cocooning me and May from everything that could hurt us. I don't know how long I can keep my orb up. If May falls asleep, will it weaken without her magic to help?
I slow to a jog the deeper we get into the forest. I don't look behind me for fear of seeing Lilith spinning over my orb or Mama and the rest of the coven giving chase. I think I hear rushing water, which means I'm going to cross the river soon.
Ahead of me I see a sphere of light, and I freeze thinking it's Lilith. But Lilith's glow was red, this light is blue like my barrier. I know May and I are safe inside my magic walls so I approach this light. The figure crouched within it looks up at me even though I'm sure I've made no sound.
'Abigail.' My grandma's voice sounds just the same as I remember it. I recognise the softness of her face and her thick silver braid. 'You did it.' She stands, strides across the river and crosses easily into my orb to take me up in a big hug. 'I'd hoped you would make it out. I couldn't come too close; Tala would sense my presence.'
'Why did she lie?' I realise I'm crying. 'Why did she tell us all those things? Why would she hurt my sister?'
'Lilith is a Queen of Hell,' Grandma says. 'She commands and produces evils we can't imagine. But we'll defeat her. We witches know where she is now.'
Grandma sounds so sure but our coven is tiny. 'What witches?' I ask.
'We are thousands,' Grandma says, 'and we've been trying to contain Lilith so we can finally destroy her. I knew my daughter would be a sacrifice, but that my granddaughters would lead us to Lilith's end.'
'But she's still alive,' I take a fearful look over my shoulder but see only darkness beyond my barrier. 'Lilith is coming.'
'I hope so,' Grandma says. 'We've all been waiting for her.'
My orb appears to fade and I worry it's dissolving, but then out in the forest I see a scattered swarm of spherical lights. They're floating towards us from every direction. A bright blue orb closes in from behind Grandma and I see Lisette smiling inside it. And I realise my orb isn't weakening. It's expanding. As these lights approach I see there's a witch at the heart of each orb. Their power is reaching out and joining mine. Each new light I see absorbs into our power and the magical sphere strengthens beyond the treetops.
I feel May squeeze my finger.
Beside me Grandma takes my hand and smiles. 'We're ready now.'

About The Author
Kat Pekin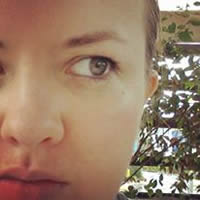 Kat Pekin is an emerging speculative fiction writer living and studying in the Western Suburbs of Brisbane. She recently completed a Bachelor's Degree in Creative and Professional writing with QUT and is currently undertaking an honours degree in the same field. Her work has been published in numerous anthologies and her stories have won, placed, or received High Commended in local and Australia wide writing competitions.