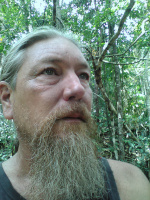 This story is a linking piece to two stories previously published in Antipodean SF, Coffee With God (Issue 245) and Frank's Best Friend (Issue 250) both first drafted whilst living in Western Australia, where I spent the best part of two decades. This piece (ironically written whilst sitting on the bank of Emmagen creek in FNQ) is an attempt, not just to further develop some recycled characters beyond the limitations of the short short story format, but also to give these stories a sense of place, a nod to the multitude of unique landscapes (and people) to be found in WA. The huge distances and wide open spaces between locations are also riddled with untold stories, so many that I find myself still writing them years after moving back to North Queensland.
Col Hellmuth lives a quiet (excepting weekly jam nights,) uncomplicated life, off-grid in the Daintree rainforest of Far North Queensland.
His day jobs over the years have found him contracted to do various work around the country in such exotic locations as mine-sites, SAS barracks, a Collins-class submarine, prisons, operating-theatres, swanky restaurants and wineries, chicken sheds, the Great Barrier Reef and the open road. He does not have any fancy letters after his name, or a pet cat, but does read a lot.
When he is not enslaved at work he is usually found bumming around his local beach dodging crocs in his kayak or jamming on the blues-harp with his fellow bandmates, the Excruders.