By Brian Keon-Coen

A solitary man reading a novel in a café. What does he think he's doing? It's breakfast time. At one end of the line of tables a middle-aged, attractive couple are on an assignation: why else would they be breakfasting together at 8.05 am? Her hair is golden, her features sharp. They kiss, cuddle, and open the newspapers.
Behind me, two men talking politics: it's the story of the week. They can't decide — again — in Canberra about climate change. The door crashes open, a bunch of sixteen-year-old school-boys bustle in, shaking off the rain, babbling like — well, like school-boys babble. Blazers with badges, black shorts, strong limbs, eager eyes, baggy shirts, talking madly about the school formal. Someone's 'divine'. Lucky boy. They carry their virginity like the schoolbags on their backs: a burden to abandon at the first opportunity. The waiter is tall, dressed like a bushie, full of "No worries mate" and "Poached, scrambled or fried mate"? He operates the coffee machine like a robot, hands flying, mind elsewhere. He's done it before. Outside, traffic groans and roars, careering between the slippery tramlines, headed east into the city, racing for: what? Another day at the office. And still the reading-man reads. Can he not sit at home and read in comfort, in quieter surrounds? Seems not. What he's really doing is an exercise in loneliness: the loneliness of the novel reader, seeking escape. He doesn't move. Doesn't order coffee or scrambled-eggs-with-bacon-and-tomatoes-mate, or even look around. Not even at the school virgins, now crowded close to my table, six of them, wondering aloud who's paying for the takeaway. The reader wears a wedding ring. It's a fat book, a paperback, probably a novel. Or maybe it's a history of the civilised world as we know it, written in French. Maybe he figures prominently. But I guess not. Something closer to home, I fear. The boys leave, having sorted the bill and hitched up their school bags. I pick up my newspaper. Now where was I?

About the Author
Bryan Keon-Cohen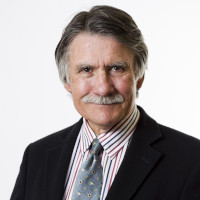 Bryan is a writer, activist and retired barrister based in Melbourne, Australia.
He has published numerous legal articles, and the books: A Mabo Memoir (2013) and The Apocrypha (2022).
Bryan's insightful and engaging short stories have been published in Australiain Woorilla (2010), Idiom (2019), StylusLit (2019), Antipodean Sci Fi (2020), and in the UK, Bandit Fiction (2018).
See further at <www.bryankeoncohen.com>.