By Michael Leach

I'm finally free falling like I did as a kid in hazy daydreams.
The far-flung Sun colours my rapid descent through an outer layer of hydrogen & helium gases, spray painting everything amber. My suit's sensors sense that I'm right at the base of the Jovian stratosphere, at an altitude near the haze layer & underlying troposphere. I'm under ever increasing atmospheric pressure. I'm drawn down, down through never ending, swirling clouds by that irresistible pull of general gravity, knowing full well I'll never reach solid ground. I'm otherworldly, out of my elements: a natural extension of thought experiments. Colleagues see me as a free-falling foreign body. Colleagues see me as further proof of that ancient theory of relativity conceived by an Earth physicist—Albert—& compellingly confirmed by an Earth engineer and computer scientist—Katie.

About the Author
Michael J. Leach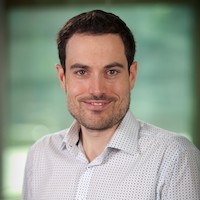 Michael J. Leach <@m_jleach> is a writer and academic who lives in Bendigo on unceded Dja Dja Wurrung Country.
Michael enjoys writing about science. His science poems reside in Meniscus, Rabbit, Cordite,Consilience, Pangyrus, the 2021 Hippocrates Prize Anthology (The Hippocrates Press, 2021), and elsewhere.
He has published a sci-fi short story in Painted Words 2017 (Bendigo TAFE,2017) and penned two science-themed plays performed by Bendigo Theatre Company.
Michael's first book is "Chronicity" (Melbourne Poets Union, 2020). You can read more about Michael's work on his website: <https://mleach11.wixsite.com/writing>