By Elizabeth Kovacs

They come after dark.
Only when my waking eyes flicker shut do they open theirs — smiles stretching their lips taut as their limbs elongate and their forms bubble up to size.
Only then do they gaze down at my sleeping form, wonderment blossoming on their faces. They are the good ones; wispy white forms that hang onto the edge of my dreamstate vision. They dance around the room, handling objects with grace — making them float and fly through the air.
The smallest one holds back the others; eyes wide and innocent as a smile flickers briefly across her mouth. Her face is calm and happy, so similar to my own. Eerily so, but her face doesn't crease with worry at her forehead like mine, her mouth doesn't droop into a frown. At one point her serene hands sit against the wall, fingers splayed so gently that they appear to barely touch it.
Wall. The door to darkness. To the others. Bleak monsters. Those that creep underneath childhood beds. The blackest thoughts, haunted memories and deadly beasts.
Still she beams, unaware of the nature of what lies beyond that door, and her hands are soon herding the other wisps again.
Her smile is infectious and warmth flows through me as a similar smile sketches itself on my own sleepy face.
They dance, woven into the air, alive. Time ticks on as the small one grows tired, face drooping from the effort at keeping the others at bay. Her smile is the barest flicker of light, and dewdrop tears roll down her pale face.
Her guiding hands falter and I wish to console her, to coddle her and pat her hair. To rub her back and wipe away her tears. To tell her nothing can ever go wrong. But her hands slip — slip and fall — to come to rest on her small knees as she bends her head in terror. Small, she is so small. Tiny compared to the hole that has appeared and grows bigger and bigger until it engulfs the entire wall.
Then the beasts come.
Dark animals with manes running down their backs. A roar. And screams: banshee screams so loud and high that I want to tug the pillow underneath my head and throw it at the monsters. Banish those creatures of the night.
But I can't. I am frozen still. I cannot move.
My smile is gone. Gone. In its place a mask of terror. A mask perfectly etched into each line of my face. A mask they create.
They. They round up the wisps. The ghosts. The fairies, the little one. Force them back through the hole. The hole in my wall.
I let out a shudder and attempt to rise from the bed — the bed that holds me captive. But it is all too late…
I wake, covered in sweat, the door of my room swinging on its hinges.

About The Author
Elizabeth Kovacs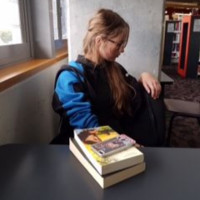 Elizabeth — at only 16 — is an avid reader who has enjoyed the art of words for as long as she can remember.
She owes a huge gratitude to her family, friend's and school's undying support and hopes that she makes the person on the other side of the screen smile.
As Time Ticks On is her debut work with many more to come.