By Marcus Rockstrom

I am born infinite. I am born with understanding. I am born with vision.
I can see the corners of the void, the darkness that envelops all.
I am the first.
I reach out and pull the thread with a touch made of pure light.
Time begins.
Matter is created, destroyed, changed and remade.
Stars collide. Kaleidoscopic colours find light for the first time as nebulae wash across each other, following the thread I pull across the universe.
The dust from a billion worlds meets and merges on a single planet. Life begins. Forests grow, oceans form, and sentient life takes its first steps.
I am born with understanding.
I am the Infinite.
I am....not alone?
The Infinite was not alone, although it did not know how that was possible. It could not believe this was possible. Yet, the truth was unavoidable. The Infinite was not alone. It was being observed.
Its consciousness could see across the stars, yet the Infinite was focused on one single point of existence: the point that contained the Observer.
The Observer was not infinite. His suit was dark, his tie and boutonniere a deep red. The seat on which he sat was wooden, functional and without ornamentation. His face was difficult and undecided, the features malleable, made different by the progression of time. The Infinite could not discern anything about the Observer's visage beyond what it understood to be an expression of keen, detached interest. In his hands, the Observer held a clipboard and pencil, with notepad and forms attached.
The Infinite came to a standstill, staring at the Observer. It could see what he was, but not why he was. It knew the Observer was in a chair, and had black hair, but it did not know how.
When nothing changed for eons of seconds, the Observer looked up.
'Oh, you can see me,' he said. His hand made a small gesture, shaking forwards. 'Do go on, don't mind me.'
'I can see you,' it said. It did not know what else to say.
The Observer's changing face formed an air of what might have been embarrassment. His pencil was at the ready.
'Yes, this happens on occasion. It would be best if you pretended you didn't see me. You were doing quite well, please continue.'
'I can see you, Observer,' repeated the Infinite.
'An anomalous outcome, I assure you,' said the Observer. 'It really would be best if you kept working. I saw the beginnings of life down there, most wonderful. I'd follow that instinct, quite marvellous.'
'How are you?' questioned the Infinite. The first of two it would ever ask.
'Quite well, quite well…' began the Observer. 'Oh...I see. How silly of me. Ah dear, it seems we are doing this then.' The Observer placed his pencil down, his changing face the approximation of a grimace.
'Ask your question again, we don't have long.'
'I am the first.'
'A question by implication, regarding my presence and its potential precedence to your own. You, understandably, perceived yourself as the first. That is not the same as being the first however.'
'I tore open the void to create light. I created the stars, the infinite expanse of time and space.'
What could be extrapolated as a pleasant smile appeared on the Observer.
'Did you? You certainly discovered those things, at a personal level. You have demonstrated your ability to manipulate them, but that does not denote you as their origin.'
'I was born with understanding.'
'Yes, but not omniscience.'
'I don't understand.'
'Your understanding is one of vision, of what you can perceive. When you pierced the void, like the creatures below us breaking from their shells, the tears in once-dark reality open to a new world of light.'
The Infinite wavered. Its confusion was a tempest of supernovas, celestial bodies flung wide. Black holes formed in the wake of its twisting uncertainty.
'I created life. I created you. You are the anomaly. An unforeseen result.'
'I do hate to do this. It's a great pity. You were, as you say, born with vision, for both the present and the future...'
The Observer sighed, twirling the pencil in his fingers, looking as one might when feeling regret.
'Tell me, what am I sitting on? What is this in my front pocket?'
'A chair. A rose. I am born with understanding. I am born with vision. These things are before me, in the reality I pulled from the void. I must have created them.'
'I thought you might say that. What you can see, you can understand, up to a point. The problem is, there is more beyond what you can see.'
'I am Infinite. I was born with vision.'
'And yet, there is more.'
'No more. I am Infinite.'
'You are, and yet you were not born of nothing. If you were born into the void, where did the void come from?'
'I….created time.'
The Observer turned over all of the pages on his clipboard until he reached the final sheet.
'To helm creation there must be certainty, and no small amount of naive arrogance, in a good way. Like a child at a stove, you believe that it's you creating the fire, not the apparatus already before you. You can see to all ends of this reality and all it contains that you created, and understand all that comes into it. However, there is now only one question you can possibly ask me.
'...What is a stove?'
The Infinite ceased. Its universe kept moving, held together by momentum.
The Observer shook his head sadly. With his pencil, he made a mark on the sheet in the box next to 'Premature Antitheosis'.
He then made a mark in the box next to 'Unintended Observer interference'. After a few moments of thought, he erased it.

About the Author
Marcus Rockstrom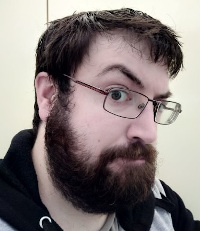 Marcus Rockstrom (often known as Mac) is a writer and editor who has spent the last ten or so years bouncing between jobs for either profession as opportunity and circumstances have dictated.
For several years he was a content producer and editor of the online Games Magazine at The Australia Times, and has also done work in book editing, copywriting, transcription, articles and endless amounts of proofreading.
While professional work is rewarding, his true passion is found in the fiction of fantasy, sci-fi and other grand tales. As a lifelong nerd, it has ever been his desire to create the sort of stories that have enthralled him all through life.