By Vicky Chapman

Being a WW2 orphan, Anna's mother barely remembered her own heritage, and therefore had no conscious awareness that she and her newly born daughter were the heirs to a rich and deep spiritual tradition. Unlike her matriarchal ancestors, Anna's mother could not name that which linked herself and her daughter to the health and prosperity of her nation, but something instinctively made sure she fed her daughter every two hours rather than the strict four-hourly regime the midwives strongly recommended.
And thus, as Humankind landed on the moon, Anna knew that the Aeroplane was Coming Into Land.
Anna's first conscious memory was of her mother begging and imploring her to finish her bowl of baked beans.
"Eat!" Anna's mother cried.
Anna was not hungry. Anna was never hungry.
"Eat, my child!" Anna's mother repeated, and with that intent, if not spoken in this new language, Anna's mother once again invoked the spirit of her own mother, and her mother before and her mother before that into the distant recesses of time to the All Mother, Everywhere.
And thus, being the obedient girl that she was, Anna ate.
Throughout her school years, Anna's mother made her all too aware of the Starving Children in Africa.
Unlike the schoolyard bullies that teased her for being fat, Anna knew that her hard-working father was slaving away at the factory so that she could have food on her table.
Anna had never been forced to sit there until she was hungry enough to eat it, and she had never had her unfinished dinner presented to her for breakfast. She knew better. Anna made sure to eat all that she was given, and her mother made sure she was always truly grateful.
Anna struggled to find a dress to fit her large frame for her final highschool dance. To comfort her distressed daughter, her mother suggested eating peanut butter straight from the jar.
Later that day, as the final dance was announced for that evening, Anna found herself in the school toilet expelling quantities of peanut butter. She immediately felt much better, at least in a physical sense.
Returning home from College on spring break, Anna's mother thought she'd lost weight.
"My darling! What are they feeding you there at college? Eat, my child, eat!"
For once, Anna smiled, knowing she could simply vomit up all the food she was forced to eat. Her mother would never know.
In October of 1987, Anna was rushed to hospital with a perforated stomach. She had lost 23 percent of her body weight virtually overnight. Eventually, she recovered enough to be discharged.
Two years later, despite struggling to fit into the biggest graduation gown the hire company had, she received a university medal in economics just like her mother had. At the ceremony, the ancient Dean quipped, "It was if this family was born into economics." Anna's mother couldn't have been prouder.
Anna met Dorothy in 1998, who assured her that she was in love with *all* of her. Anna was delighted when Dot proposed. Of course, her mother insisted on catering the whole thing. Anna knew that none of the guests could possibly go home hungry, but still, she wanted to look her best for her wedding day. Anna went on an extreme detox diet and exercised obsessively. She'd slimmed down by over a third when she said her vows in April 2000.
Alarmed at Anna's shrinkage, Anna's mother moved in to 'help', and when Dot and Anna had decided to have a child, Anna's mother insisted on feeding the happy family.
"You look hungry, Anna. Please. You are now eating for two. Eat, eat!" Anna's mother beseeched, as Anna's already generous belly grew ever larger.
Baby Marcus was born a healthy, roly-poly baby, doted on by both of his parents and spoiled rotten by his grandmother. Anna was devastated when he died suddenly and unexpectedly in October of 2007. The postmortem suggested that while the cause of death was congenital, his bonny rolls of baby fat had contributed to his death.
Anna refused all offers of comfort food from both her mother and her wife. She knew she was already grossly obese. Whatever had killed Marcus could just as well kill her.
By New Year's Day, 2009, Anna was half the weight she was the day Marcus died, and she was virtually bedridden. Desperate for her daughter, Anna's mother slipped appetite stimulants into her one vegetable smoothie of the day until she picked up again — but her recovery was slow and sluggish, and some of the damage to her body after that episode was irreparable.
Sometime last year, Anna's mother sensed once again that Anna was not doing well. Anna and Dot fought a lot. Their relationship was not what it once was.
"My dear, you need to eat," Anna's mother pleaded, "You have to eat."
"Mum, I'm not hungry. I don't want to eat any more."
Anna's mother tried the Aeroplane, and the Starving Children in Africa, and the Poor Father, and her other tricks to ensure that Anna kept eating, but to no avail.
Anna's mother became desperate. "You must. You must eat. Please, for all of us, eat."
Anna's mother was extremely concerned. She was the first in her line to not know the exact how or why, but Anna's mother knew to the bottom of her aging bones that Anna had to increase her consumption by three and a half percent per annum or another economic disaster would besiege her adopted country.
For the first time ever, Anna's mother considered force-feeding her daughter.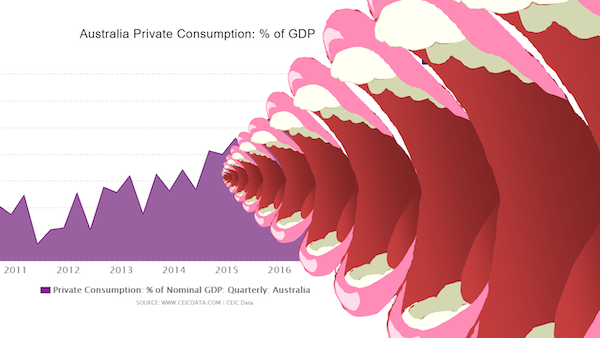 About the Author
Victoria Chapman
Victoria has worked in the metal manufacturing industry as an industrial chemist since leaving school but views those past 33 or so years as merely a stop gap until she figures out what she really wants to do when she grows up. She discovered the joy of words after encountering "Ode to Autumn" by Keats in 1985, and has been jotting down anecdotes, short stories and essays to amuse herself ever since.
A self-identified 'nerd' with an insatiable curiosity towards whatever attracts her attention, she also enjoys drawing, yarn crafts and learning new things. Victoria lives in Melbourne with her husband, son and too many cats.
This is her first formally published work.