By KJ Hannah Greenberg
***
*Wanted: a forever home for Thiago, our two-headed wildebeest calf from Centaurus A.*
***
Me, typing furiously: "Perfect! Our own two-headed wildebeest calf, Silas, seems lonely. We don't dare visit our grandchildren overnight until we find a companion for him."
Them: "Thiago spent his formative months with Miss Aurora. He gets along well with other creatures. Miss Aurora is a giant Jupiter lobster."
Me: "Those sentient lobsters are not bovine though they're abounding with diamonds."
Them: "Oopsie. Bad on me. Anyway, Thiago loves Miss Aurora."
Me: "Then why rehome him?"
Them: "We're rehoming Miss Aurora, too."
Me: " Hmmm. Well, Silas needs a friend."
Them: "We'll throw in ten kilograms of grass seed and his favorite salt lick. You do have acreage, right?"
Me: "Enough for an entire herd. We don't really need seed and we don't believe in salt licks. Besides, all the plants in our pasture are gnu-friendly. We sowed SO MANY of them when we adopted Silas. Ours is a very dedicated wildebeest ranch. Plus, we both work from home, so our cattle are spoiled."
Them. "We had Thiago neutered. He'll be part of a bachelor herd forever."
Me: "Likewise with Silas. Attached is his picture."
Them: "He is GORGEOUS and was such a cutie as a newborn. How old was he when his second head appeared? Thiago was four months."
Me: "Three and a half months—fairly average for the species. Thanks for the kind words. We, too, think he's handsome."
Them: "It sounds like it would be a good match. You know, they'll initially hate each other, but if you do the introduction slowly — it could work. I had to do that with my pets. Would you like to come and meet Thiago? Two gnus are better than one. They like companionship and it takes some of the onus off their human caretakers when they entertain each other! Since you've had multiple gnus, I assume you know how to introduce a new calf into the mix. "
Me: "Every intro. depends on the wildebeests involved. Usually, there's little drama. On balance, it can be hours, days, or weeks before they're snuggle buddies and mischief associates."
Them: "I bring Thiago to the vet every five weeks for hoof trims."
Me: "My spouse trims them, one hoof at a time, when needed. We bought a special trimmer that protects each snip from going too far up."
Them: "If you succeed to trim Thiago's hooves, you're amazing. He does not like it."
Me: "No matter. We'd love to meet him. Hubs is recovering from solar sickness just now. Maybe next week? Do you have his import documents? His vet records? Yes, more than one calf is nice. We've owned herds of those extra-terrestrials."
Them: "Next week is fine. We're part of the lunar colony. You own a short trip rocket, right? Meanwhile, we'll round up Thiago's paperwork. I think you should take the salt lick. In fact, I insist."
***
Me: "I haven't pinged for a while since Silas has an ocular discharge. He's going to his vet. I think it's an allergy, but it could be something worse, even something contagious. We're careful with our critters, so we'll have to delay meeting Thiago. By the way, do you have a transport cart for him?
"Silas loves his cart. We have it parked in his favorite pasture and he shelters in it when we have fire storms. Sometimes, on flameless days, he naps in it, too. We know many tricks for wildebeest care!"
Them: "I do have a carrier, but I need it for Miss Aurora. Thiago does like it, but it was expensive. When I succeed in rehoming Miss Aurora, if her new keepers don't NEED a carrier, I'll give it to you. Regardless, you'll be getting Thiago's salt lick."
Me: "Whatever. Please assemble Thiago's papers. The moon division is tough on animal exports."
***
Them: "How is Silas doing? What did the vet say?"
Me: "His appointment isn't until tomorrow. I'm hoping it's merely an allergy to the heel-fly toxicant that I spray on our pastures. I'll keep you posted."
***
Me: "Good news and bad news. Our calf has conjunctivitis. Apparently, it's zoonotic. We'll have to wash carefully after each application of his medication. Hopefully, none of us will be contagious by next week. Can you wait?
"Also, I asked our vet about the supervision needed for rehoming a two-headed wildebeest. He said that if the wildebeest has had regular healthcare (we need Thiago's records), he oughtn't to need appointments before his one year checkup. Please, please, please gather his records. You know what? Also please collect a piece of clothing that smells like you two; that'll make the transition easier."
Them: "Yes, we can wait. Not a shirt from my partner, though, as she is not endeared to wildebeests and has had little to do with raising him. But I have a sweater that he loves that I can give to you along with his salt lick and records. I'll contact my vet, today. Our calf is completely up-to-date on everything."
Me: "Super! Hopefully, we'll be able to get to the moon next week."
***
Me: "Good news! Our calf's feeling better. He's back to eating hedgehogs and belching. Does 20:00 on Monday or Tuesday suit you for a meetup?
Them: "Tomorrow, Monday, is fine. But not too late after 20:00 and absolutely not past 21:00. Earlier is better. Also, I requested his records from our vet and, hopefully, will have them by tomorrow.
"One more thing…Thiago bites, sometimes. If he takes your head into his mouth, don't pull away suddenly. Our neighbor's little girl never returned from our pasture.
"Anyway, he bites when he wants to PLAY, so it's best to substitute your head with a basketball or a gardening spade and you must always wear a helmet when "wrestling" with him. Additionally, when he's sleeping near his salt lick and I approach him to offer my head, he only bites gently (albeit it's up to me to break contact with his maw and I must do so very carefully.)
"Thiago is a good pet, but only on HIS terms. If you are sitting and not moving a lot and he is in the mood, he'll come to you. He does not often do this. Likewise, he tolerates stroking on his flanks, but not anywhere else (unlike Miss Aurora who loves being stroked all over).
"Furthermore, he likes chasing our gardening robot (that's one item I'm not offering you.) Our gardening robot keeps him occupied for long spans! It seems that his neutering did little to decrease his testosterone."
Me: "We would like to meet your alien gnu. He sounds quite suitable (his biting behavior mirrors that of Silas, who nibbles to say 'play' as well as to say, 'I've had enough.' Silas has not, however, decapitated any of our neighbors.)"As far as adopting Thiago, my husband and my biggest concern is how the two calves will get along. Assuming we get a good vibe from your calf, we'd like to have a trial to see how it goes. If they don't get along, we'd consider the adoption a 'fail' and ask you to take him back. Are you amenable to that plan? It would not be fair to either of them to keep Thiago if he and Silas can't get along.
"We can rocket to you by tomorrow evening (I have a business meeting till 19:00.)"
Them: "We can't do a trial."
Me: "Then we can't adopt your gnu."
Them: "PLEASE don't decline. He really NEEDS a better home than we can provide.
Me: "We need a trial. Our two young calves seem fairly similar, hence, might clash. We don't want two-headed wildebeest conflicts. Also, we're beginning to rethink this deal as the members of our herd have never hurt any humans."
Them: "How long of a trial?"
Me: "Two weeks, tops."
Them: "That's not enough time. It took Miss Aurora and Thiago months to find peace."
Me: "That's odd given that they are different types of creatures, that your lobster is an adult female, and that your calf is a young male."
Them: "Two weeks isn't enough time for you to see if the calves get along. To boot, I'm still waiting for our vet to send Thiago's papers. Please give it a try. Two months could make all the difference."
Me: "I'm signing off. Please stop asking me to accept him."
Them: "OH NO!! Please come meet him. You see, first, we adopted Miss Aurora. She is a quiet, reserved, respectful pet. My partner, who never cared to own an otherworldly critter, thereafter, encouraged me to adopt a space gnu because she knew I love them, and she loves me.
"When our neighbors offered us Thiago, my dear one encouraged me to take him. But because Thiago, unlike Miss Aurora, is playful, my partner hates him. I cannot keep him here. He needs to be with a young calf who can play with him and with people who love him."
Me: "Since he's a nice calf, he'll find a nice home."

About the Author
KJ Hannah Greenberg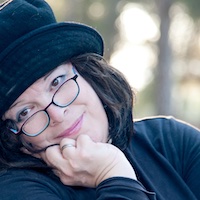 KJ Hannah Greenberg has been playing with words for an awfully long time. Initially a rhetoric professor and a National Endowment for the Humanities Scholar, she shed her academic laurels to romp around with a prickle of imaginary hedgehogs.
Thereafter, she's been nominated once for The Best of the Net in poetry, once for The Best of the Net in art, three times for the Pushcart Prize in Literature for poetry, once for the Pushcart Prize in Literature for fiction, once for the Million Writers Award for fiction, and once for the PEN/Diamonstein-Spielvogel Award for the Art of the Essay. To boot, Hannah's had more than three dozen books published and has served as an editor for several literary journals.
Find out more at her website: <http://kjhannahgreenberg.net/>.