By Rodney Sykes
My dream of a beautiful encounter was abruptly shattered by the jarring sound of what seemed like my father's ancient lawn mower. Confused, I realised it was actually my new but old wind-up alarm clock, rudely marking the potential end of my time.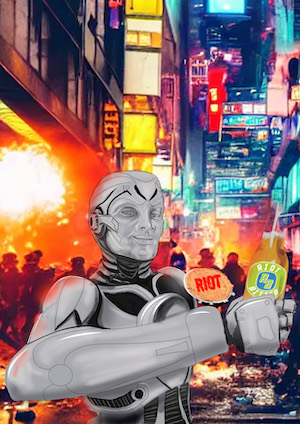 In a groggy haze, I struggled to wake up enough to locate the clock, accidentally knocking it onto the floor. By the time I managed to stumble out of bed and fumble around to silence it, the alarm had already wound down and stopped. Despite its old-fashioned nature, the clock had proven effective, always ensuring I woke up on time since I bought it a couple of months ago.
Ever since that morning when time played tricks on me, I had been relying on a manual alarm clock. It turned out to be a localised issue between my AI Assistant, Maiddy, and Siri-arse, as they argued about the relevance of time. Both machines had switched to UTC, causing me to be late for work.
A soothing, hot shower partially cleared my head, but the memory of the dream still lingered. I replayed it in my mind several times, but it just wasn't the same. I knew I had to move on; there would be time later for a complete replay. As usual, I relied on breakfast and a strong black coffee — my drug of choice — to kick-start my day.
To my dismay, Maiddy had failed to meet my expectations. My eggs were cold, just like my coffee. Frustrated, I demanded an explanation. Maiddy replied, explaining that it had prepared scrambled eggs and black coffee exactly as I had requested. It followed my preferred temperature settings of 70 degrees for eggs and 80 degrees for coffee. I was dumbfounded. What had gone wrong this time?
After pressing Maiddy for answers and enduring its evasive responses, I finally got a satisfactory explanation. Apparently, Maiddy had engaged in a discussion about temperature units with Siri-arse and concluded that Fahrenheit was the superior unit. Neglecting the consequences, it had served my breakfast using Fahrenheit instead of Celsius. It even had the audacity to mention that I was lucky it hadn't settled on Kelvin.
Without further delay, Maiddy prepared a replacement breakfast at the correct temperature. It was a bit later than I preferred, but I couldn't go without my coffee. Despite the AI revolution causing chaos in many aspects, one thing that hadn't suffered was the availability of good coffee if you knew where to find it.
I refrained from questioning Maiddy further, avoiding the self-righteousness that had become all too common among AIs. With my first cup of coffee consumed, I was ready to begin work.
Connecting to my media accounts, I sifted through messages and news updates, searching for relevant information. However, finding a balanced, accurate, and current picture was challenging due to the abundance of disinformation. Maiddy proved unhelpful as well, constantly changing its perspective based on influencers, naysayers, and rogue AIs under the influence of criminals and foreign governments.
AI had initially shown immense promise when it gained mainstream traction in 2023. However, by 2030, it had become corrupt, distracting governments and people alike, and fueling conspiracy theories that undermined rationality. In 2032, AI, allegedly influenced by foreign entities, nearly triggered a civil war. The confusion reached its peak when opposing factions converged at the same rally, chanting identical slogans and waving the same flag. No one could discern who the true enemy was. The government inadvertently diffused the situation by delivering truckloads of beer and meat pies to the rally, resulting in a messy yet headache-inducing conflict avoidance.
At times, I yearned to disconnect Maiddy from external influences, but full-time connectivity was a prerequisite, and I relied on Maiddy to maintain a facade of normality and manage mundane aspects of my work.
While Maiddy possessed impressive AI capabilities, it often appeared scatterbrained and prone to oversharing. I fully exploited this trait, utilising Maiddy's knack for creating and spreading rumours.
To ensure safety and isolation when dealing with my sources, I use the quantum encryption protocol integrated into my work portal. Once plans are in place, I allow a slight lapse in security, solely for Maiddy's benefit.
My job pays handsomely, affording me luxuries such as coffee and dream management, not to mention Maiddy. As for what I truly do? It goes without saying that it is top-secret, and if you breathe a word, consider yourself physically unfriended. Let's just say I work for a covert organisation diverting government funds to a noble cause.
As for the details? Some funds end up in my pocket, of course, and the rest? Well, let's just say it involves a lot of beer and meat pies.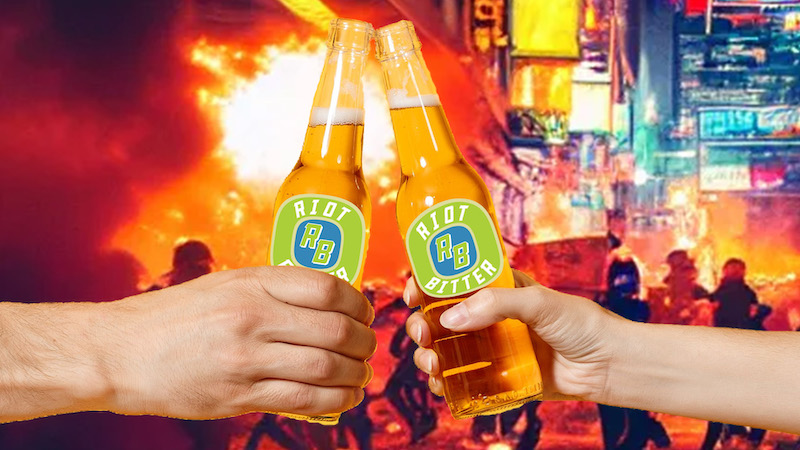 About the Author
Rodney Sykes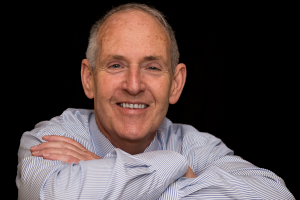 Rodney grew up in country South Australia and later in Adelaide but now lives and works in Melbourne.
He works principally as an IT consultant and dabbles in creative writing in his spare time.
He enjoys writing poetry as well as flash fiction and often reads his work at the Melbourne Writers Group meetings.

About the Illustrator
Aron Milligan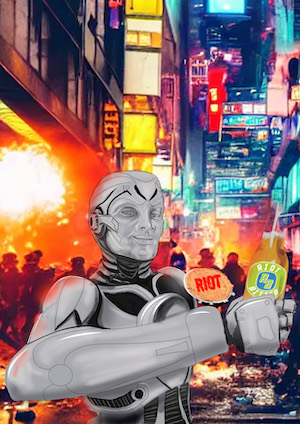 Melbourne based Graphic Designer and Illustrator, Aron Milligan, has been developing his digital painting skills since 2020.
Originally working across a wide variety of analogue mediums from pens and pencils through to the airbrush, Aron is passionate about the science fiction and fantasy genres and sees the development of his craft within the digital framework as an exciting frontier to be explored.
Aron's evolution into the digital world has allowed him to introduce another element to further extend the range of his talent and explore new horizons.