By Michael Barry
Found in an inverse-time capsule from the Tricentennial year, 2088
(Progressive lyrics, same old tune):
Austrayans, let us all have choice
For us all, free of class
But not for us a jot of tax
Just pull it from our arse!
(With growing debt then let us sing
Advance Austraya, where?)
For pirate ships from 'cross the seas
We've stolen land to spare
We chased them off in chains, with shot
Now: can they prove it's theirs?
Eureka's flag cries "Liberty!"
For fascists old and new
(Let's bitch and whine 'bout fairness now
Advance Austraya, where?)
Beneath our radiant Southern Cross
Unique in our great skies
Except for fifty other lands
Plus R'lyeh yet to rise!
For Cthulhu sing: f'thagn you!
Cry madness to the skies
(Then let us tear flesh underwear
Beneath His howling skies!)
When Elon drops us off to Mars
In fragrant smoke we'll land
And make those Martians pull our carts
With their nine-fingered hands
We'll praise them with enormous burps
And pat their flowered heads
Then we can wash our hands in turps
And bang them till they're dead
(Let's blast and shoot, then stab and loot
Then burn their empty beds!)
We'll rage across the Milky Way
Nuke-vaping everything!
For Elon-Gates the Third we pray
Long Live our Kingly Queen!
The radiant cosmos all is ours
And never shall we learn
We are afraid of nothing now
But babies made of sperm
(Sperm babies are against Gog's will
Where does the cabbage grow?)

About the Author
Michael Barry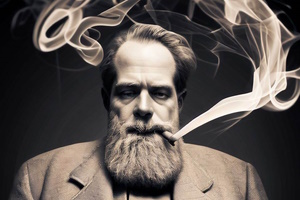 Michael Barry grew up in rural New South Wales and in Papua New Guinea, arriving in Canberra after a short but glorious career of truck-washing and toilet-cleaning in the Australian Army.
Michael worked as an economist and technical writer, and later taught maths until he realised that a person with 'the innocence of a child' is in fact a sociopath. Writing releases Michael's own inner child.
Michael enjoys long rambles on moonlit nights, relishing in the taste of human flesh. He does, however, experience a degree of inner conflict.