By Robert Caldwell

brief fly through
Author: Xperkto
Date 89-623 679:5342
I couldn't sleep one millennium. So I got into my spaceship and jumped over the billions of light years to the seventh-degree species world. I looked for what appeared to be one of the scarcer inhabited areas and flew my ship through the atmosphere. I know that is no big deal to you abduction pros but it gave me a thrill.
---
Re: brief fly through
Author: njytegb
Date 89-624 679:5360

No need to be ashamed. A brief fly through is a good start. Most cypup start small and work up to abductions in steps. Next you may want to find a small inhabited area and fly over that. After a few of those you can try larger populated areas. Then when you get bold you can actually land somewhere. Next you can get out and run around the saucer. Only after you have gotten comfortable with doing these things would I recommend you try an abduction.
---
Crop Circle Encounter
Author: 89j0mv
Date 89-624 296:4228
Ah. The wonders of technology that we can jump over the light years in order to knock down some photosynthesising life forms. Imagine my surprise last timepart when I descended on a field and discovered three seventh-degree species engaged in making an imitation crop circle. I used the qetyv to cause them to lose consciousness and finished up their handiwork myself. They were doing a very rudimentary pattern so I expanded it and made it much more elaborate. Imagine their surprise when they woke up. %)
---
Another brief fly through — bolder this time
Author: Xperkto
Date 89-625 579:2348
I did it again! This time I found an inhabited area and I knew I was sure to be seen and flew over. What a rush!
---
Re: Another brief fly through
Author: njytegb
Date 89-625 579:2360
Congratulations! Keep up the good work.
---
Talk Show Liar
Author: Gggggg
Date 89-625 967:5774
While monitoring my favourite transmission signal from earth. I recognised a fair-haired human guest on one of their talk shows. She was a female I abducted about six timeparts ago. She told the host how I had prodded her with sharp instruments. What a liar! This was one female I found attractive even by zrrrr standards. I did nothing worse than stroke her. She enjoyed it, and asked for me to come back and abduct her again. She is just mad because I refused to have sex with her.
---
Re: Talk Show Liar
Author: Llllll
Date 89-625 967:5794
That reminds me of the time I abducted a mid-aged male with partial hair loss who was happy to be abducted! He told me he'd always wanted to be taken aboard a UFO. I made my procedures even more painful than usual. He said that would only make it easier for him to remember the experience. #) I used xct9h to do a complete memory wipe out. What a waste. Jump forty billion light years for nothing.
---
First Landing
Author: Xperkto
Date 89-626 579:5342
I did it. I actually touched down on the seventh-degree intelligence planet. I looked around before landing and found a park in the middle of a large city. I detected people in the park so I knew I had an audience. For some strange reason, these two humans, a guy and a girl, were walking about nude. I guess that is why they are only seventh-degree. I settled my craft right down in front of them. You should have seen the look on their faces! I took off silently — disappearing as quickly as I came so that they might be unsure they actually saw me. What fun! My hearts are still pounding.
---
Re: First Landing
Author: njytegb
Date 89-626 579:5346
Good job! You'll be a pro in no time at all.
---
Re: First Landing
Author: HaxOr
Date 89-626 579:6870
I'm cybup also. What part of xtqp2 are you on? Maybe we can get together and do a joint abduction. I'm new at it myself, and have only done some flyovers. With a partner I think I could be bolder.
---
Late Timepart Swim Ruined
Author: 79543
Date 89-626 300:6229
Maintaining a white dwarf power plant can be stressful. One timepart I longed to stretch out and swim in an ocean of water. I did a bio-jump to the seventh-degree species world to the heart of the ocean furthest from any land. It felt wonderful luxuriating in the salty water with plenty of wiggle room. After a particular deep dive I surfaced to see a large surface vessel. It looked like one made exclusively for recreation. Hundreds of seventh-degree species witnessed my coils in all their glory undulating in and out of the water. What was a surface vessel doing way out there? Or did I swim farther than I thought? In any case I knew I'd better move. I did a slow jump, and none too soon 'cause I sensed a space patrol sentinel. He had me on lock as I squiggled through jump. Fortunately I stumbled on a wormhole which allowed me to give him the slip. I guess I'll have to stay away from that planet for a while.
---
Finally did an abduction!
Author: Xperkto
Date 89-629 23:8792
Me and HaxOr teamed up and with mutual support we gained the courage to land right next to a seventh-degree's dwelling. When two of their offspring came out to investigate we beamed them aboard and went at them with all our medical equipment. These offspring screamed the entire time which I found quite annoying. HaxOr, who is more malicious than me didn't mind but I insisted on putting them to sleep just to shut them up.
That put a bit of a damper on my first abduction.
---
Re: Finally did an abduction!
Author: njytegb
Date 89-629 23:8592
Never abduct offspring.
---

About The Author
Robert Caldwell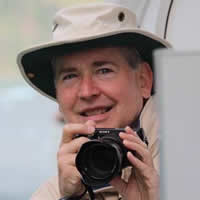 Robert writes about himself:
You can also find this story in my collection The Other Side of Forever, on Amazon.
I grew up in Birmingham, Alabama. I have a cat that sometimes gets in the way of my typing. I am also a photographer. At 48 years of age I was diagnosed with Asperger's Syndrome, a high functioning form of autism. Recently I have become a self advocate.
I graduated from Huntingdon College in 1981. I studied photography at night classes held at the University of Alabama in Birmingham. I got an MS degree in Journalism at Murray State University. Then I worked at newspapers and publications without much success before I went to Portfolio Center in Atlanta in 1994 to study Commercial Photography. After one year I left because I did not like the teachers or their teaching methods. Not having very much success finding commercial photography jobs I worked at several retail establishments in Atlanta until I decided to move back to Birmingham Alabama in 2002. I got a degree in Web Design in 2007 From Jefferson State Community College and once again couldn't find work. I have found a new purpose in life since my diagnoses. I am a Governor appointee on the Alabama Interagency Autism Coordinating Council and the Regional Autism Network as well as volunteering for several activist organizations, all well being a caregiver for my Mother.
Growing up autistic I always had a different angle on things. That may be why my stories are so strange.
Previously in Antipodeon I've had "A day In Caaatahlona 1 City Beneath The Waves," AntipodeanSF February 2018
I've also had the epic poem "The Blossom War," published in 18th Wall's anthology, The Dragon Lord's Library.
I had a short story "Silver Image," published in the Daguerreian Annual 2015.