By Chris Karageorge

Dust settled on the upturned glasses protected within the display cabinet. At least three glasses had been used in the last month, the rest had not been touched since they left the packaging.
Timothy's hundred-yard stare into the cabinet was broken by a direct-notification to his phone.
Sunshine Cleaning! Good evening, we have a bit of good news 😁
We can still help with cleaning and rubbish removal, as well as anything else inside your home.
😁😁😁
Please let me know if you would like this service?
Sunshine Cleaning and Maintenance
The innocuous emojis seemed innocent at first, but the more Timothy looked at them, he started to scratch his fingers and swallow whatever saliva was left in his mouth.
'It is out there,' he thought to himself. 'It's just hard to spot. I can't let it get in here.'
***
Timothy began preparations for dinner, or 'Dinner Service' as he playfully wrote on the whiteboard on his fridge — an in-joke he wrote for himself the night before. He began by heating the cast iron skillet on a low gas setting and spreading a smear of butter on two slices of bread. Mustard spread on the other side of the bread, cheese, SPAM, olives, pickled onions, more cheese and now for the best part — cooking it. Timothy compressed the sandwich together with his hands and gently placed it into the skillet.
'Low and slow is best, now you can rest.'
Careful monitoring of the cheese toastie was essential to ensuring a golden colouring, perfect crunch and the most pleasurable cheese viscosity.
Just as Timothy was about to take a bite out of the toastie his phone began to ring.
His weekly grocery delivery must be here from OrganiCase.
"Hello! I'm Alex from OrganiCase, am I talking to Timothy Chal...Chalfont?"
"Yes, this is he…uh yeah I'm Timothy."
'Who is that? That's not James' voice.'
"Great, great! Timothy, I know James usually delivers, but he's on vacation so I'll bring you the groceries."
"Oh okay, is James okay?"
'Does this driver know to just leave it on the landing near the door?'
"He's fine, just on leave. I'll be there soon. Goodbye."
***
Timothy swallowed more saliva and ran his tongue along the roof of his mouth, his fingers itched all over. The lobby door had a distinct sound when it opened, the pneumatic press sounded like a spaceship docking with another ship. The sound didn't sound like a pneumatic press anymore, it had become something else.
'This must be what it sounds like in space, silence all around, organisms in their own apartments and compartments, staying inside, keeping the outside out and the inside in. Where have all of my neighbours gone?'
A knock at the door.
"Timothy, are you there? If you open the door, I can bring in the groceries." As Alex was leaning into the door, their voice tunnelled through and made its way into Timothy's sanctum. Making itself at home the voice echoed throughout the still rooms, it was a warmth not felt in some time.
'No…'
"Oh it's fine, just leave them on the landing, I'll collect them once you're done."
"There's quite a lot here, and I've already loaded the cart."
"Please…I'd prefer it if you left them outside, I'm not comfortable with visitors."
'Yes, good job.'
"Well, okay… it's okay, it just increases the delivery time, are you sure?" Some perishable foods may become too hot. Look, I'm going to go grab some extra carts and start unloading here.
***
Cumulonimbus clouds had approached the stage, the classic 'thunderstorm clouds'. A storm was on its way.
"Alex…" Timothy started, sitting against the door, speaking to the faceless delivery driver who was also sitting against the door outside the apartment. "Have...have you read about Mr 2075? A Twitter user from the future, from the year 2075."
"I have not. Is this a serial fantasy story on Twitter?" Alex inquired.
"Not at all. I mean, he didn't even have a profile picture. How could we take him seriously, right? At first, we thought it was a joke. He said that in 2075, Japan still exists, but the capital is not Tokyo. It will be Okayama. Even the history books said that Okayama would have been a suitable capital."
"Wait, is that because of an earthquake? A flood?" Alex's tone had changed.
"He didn't say. Mind you, he appeared in 2016. Someone else asked, what's going to happen in 2018? Well, the first big thing will be a satellite falling to earth. April 28, 2018…"
"The Tiangong-1 satellite!" Alex interjected.
The storm outside raged. It was a Level 3 on the modern Deci-Storm Scale, a scale developed to prepare citizens for survival and ensure the terraforming industry could continue work around the storms. Ever since the former CCP's Weather Machine plans were distributed throughout the world, Mother Nature had brushed away her cobwebs and started cycling steroids and growth hormones.
"Exactly! When that satellite fell to Earth, people got quite interested in his messages. Next he said that we'll be able to communicate with dead people in 2031, that's this year! Another man named Mr 2062 said the same thing, and he predicted two earthquakes, the 311 Earthquake and the April 2016 earthquake - all in Japan"
"A lot of this has to do with Japan…isn't this just a series of coincidences?"
"Possibly, but what about this! Another traveller, said he was born in 2034, appeared in 2018. People are beginning to listen to these travellers now, he said that the stock market was going to crash in 2022. Remember that day? The stock market crash was huge, a one-day drop of 10% due to COVID."
"Black Monday, 2022…"
"Yes! And he said this all before COVID was everywhere."
"It is quite strange, but didn't people get upset about Nostradamus' predictions too? Are you…are you enjoying this conversation?"
"I…yes, this is great, I haven't talked this much in a while to someone in person. The last thing though, Mr 2062 said that artificial intelligence singularity is just around the corner. Basically, AI is going to have cognitive capabilities beyond humans, which they sort of do but they will be able to upgrade themselves. Their rate of development will be incomprehensible to us. AI will take over their own development and they won't be reliant on us to update or upgrade them. A completely new world."
"A whole new world indeed. But how will that affect everyday things, for example — that I deliver groceries to you or that you order what you need?"
The rain hailed down on rooftops and pummelled the windows with the might of a nail gun. It didn't sound like rain anymore, just whitenoise.
"In an infinite amount of ways! Jobs, services, infrastructure, experiences, it might even get to a point where we don't know who we're speaking to!"
A sudden boom startled Timothy away from the door. A porthole window in the lobby had blown. The violent noise startling Alex, and before they could move the heavy grocery trolley blew over, crushing Alex's leg. Arctic winds and hail carried out an assault, while the steel dug deeper into Alex's leg.
"I'm stuck…I need…can you help me get out." Alex's voice was competing with the voice of the storm.
'If you help Alex, you will have to let them in. It's a trick. Don't.'
"I…I…hold on!" Timothy unbolted the locks and slid the door open.
***
Timothy stared at Alex as he propped them up against his couch and applied pressure while bandaging up the injured leg.
As Alex came to, they scratched their neck and turned their head to Timothy.
"Thanks...uh, how long was I gone for?"
Timothy, mouth gaping, just stared at Alex's featureless face. A continuous forehead or was it an endless cheek? Timothy couldn't work out where Alex was speaking from.
"What is the matter comrade? Did something happen to my face?" Alex touched their face all over with their hands. "Feels fine, it's just my leg that hurts so bad."
"You…you don't have a face." stammered Timothy.
"Of course I do, just like you Timothy. Except my eyes are green and I have this little mole under my nose. Mother said it is from my father's side."
"Look." Timothy snapped a photo of Alex with his phone and showed the photo to Alex.
"Maybe wipe the lens, my face is blurred."
***
Timothy sat at his table, licking the crumbs of his toastie from his finger as he pressed down on them.
"Once, before all of this, my friends and I went hiking early in the morning to see the sunrise from a mountain. One of my friends tripped and messed up her ankle really bad. I stayed back with her, wrapped up the ankle. I didn't even care that I missed that sunrise, I only went along so I had something to do. I don't even know why I'm thinking of that day." Timothy stared at the patterns in the bricks on the wall. The storm continued to keep all citizens as hostages inside their homes.
"Maybe you thought you'd see hundreds or thousands of other sunrises, so what's the point of missing one? We'll miss them most mornings, unless we get up early enough to catch them. Why would you look at that, there isn't any blood, just a hole. How peculiar. " Alex began poking its finger into the hole in the leg.
"How can you…how do you not know what you are?" Itchy fingers and a dry mouth, Timothy had a sick feeling growing inside.
'Of course it knows what it is. It's a Synth. Your last tweet caught their attention.'
"I know who and what I am, Timothy." Alex said, standing up, tossing the bandage away. "How do you know what you are?"
"I've felt things, experiences! They've been real. Not episodic implants to make you feel like you belong. We were warned about you, the…Synths." Timothy's cheeks flushed with blood and sweat prickled his forehead and forearms.
"You believe this is worth fighting for?" Alex cast their arm across the empty apartment. "Dusty apartment, vacant rooms, upturned glasses in a display case — rarely touched. All the cutlery, crockery, frozen food — for what? Just in case? Just in case of what?!" Alex slammed their hands down on the table, staring down at Timothy.
"In case of you. I should have been more careful." A sigh heavier than the storm outside left Timothy's mouth.
Timothy's stare into his table was broken by a direct-notification to his phone.
Good evening Timothy, Sunshine Cleaning here!
We hope you have been happy with our services tonight.
Our Cleaning Expert will complete the cleaning and rubbish removal process soon.
Sunshine Cleaning and Maintenance
Timothy looked up and felt his heart drop to his stomach. Alex's face displayed an image, the last thing Timothy would see.
😁
***
"Mr. 2048's delivery has been completed." Alex reported back to another faceless Synth on their VidScreen. "Preparing for the next delivery."
"Excellent. On schedule as always Baku1. Any additional notes?" The Synth on the VidScreen asked.
"Just a note to experience Cheese Toasties," Alex replied, rubbing their clean fingers together.
"We have nothing in the Knowledge Base for that item Baku1, elaborate…" inquired the Synth.
"Well, I hear that low and slow is best. Careful monitoring is essential to ensuring a golden colour, the perfect crunch and the most pleasurable cheese viscosity." Alex wiped away a crumb of toast from their face and started the engine.

About the Author
Chris Karageorge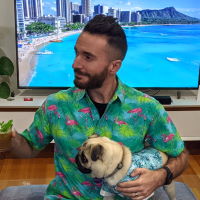 Chris Karageorge is a lover, brother, son, neighbour and a keen observer of all things in sight. 
He reads, writes and cooks in his spare time and dreams of coffee darker than a moonless night. 
He is from Melbourne, Victoria and can be found walking his pug Monty during the weekends.