By Kim Rose

Pod was sad.
Sadness was not unknown on pod-world, but it was carefully managed. All the various pods working at various frequencies balanced the overall equation quite well. Sadness was okay. It was part of being alive. The sadness was necessary for a balanced overall equation.
But Pod was persistently sad. An oddity. All day Pod just moped. He did not want to participate in joint energy exchange. He did not want to feed on particles of cosmic light. He did not want to vent vacuum between the stars. Pod could find nowhere to be content.
It had all started with the Earth-trip. Other pods had warned him — "Earth-trips are the worst. They mess you up for life. Don't ever take one."
But Pod had also heard that Earth-trips were enlightening. That they told of a purely physical experience divided from the spiritual. A place where you had to grope around, looking for your infinite spiritual particles, at all times never even knowing if it existed at all. Pod could not conceive of such an existence. He wanted to know.
So, when a multitude of pods gathered, absorbing a particularly bright matter stream, he congregated with them.
"This is a nasty deep dose of Earth-trip this one," muttered the largest pod. Pods grew large from consuming etheric matter, shrunk themselves again by venting vacuum, and chose if they could be large or small before they went into the particle accelerator. Some never did, instead dissolving away into light or dark near the matter of stars and planets. All was balanced, the way of pod world.
With a few other brave pods, little Pod flowed right into the centre of the matter stream.
Oh, what a trip indeed! He tasted a multitude of entities and sensations. This physical plane was indeed a place of intensity and wonder! Why, the universe took on sudden extreme highs and lows, a dozen sensations pod had never had before suddenly redefined his world. It went on, and on, now that Pod had a concept of time, drawn by this physical matter that drew breath and counted its own existence through beats in its chest.
So many times Pod knew sadness, intense and all encompassing. None so great as when it came time to leave, to bid farewell all those he had come to love. Love was not a concept on pod world. Did we love our etheric lights? Our vacuum? Our spin through the stars? No. It all simply was, and pods came and went, balancing the overall equation. None complained. None knew how.
Pod was torn from existence, back into its echo, surrounded by pods, all exclaiming, "Wow, did you feel that? What did you see, hear, taste! Did you love, did you have adventure?"
All pods seemed relieved to once again have back their lives of non-existence. All but Pod.
He had realised that this could not go on. That something must be done. He was unbalancing the equation. Pods could not keep straight and vibrate accordingly. Pod felt there was a precedent for this — had not other pods told of the ones who died of sadness?
No, this was an Earth term. Pods did not die. Pods dissolved or went into the particle accelerator.
Pod drifted through other pods and their ways. He headed for the light, the most blinding light. Generally, they stayed away from the black hole.
Pod didn't care. He was ready to balance the equation of the whole universe, not just pod world. Whether he ended up on Earth or not it didn't matter. He had to leave pod world.
Pod allowed himself to be drawn in, feeling both etheric light and vacuum in the gloom. He was tugged first one way then the other. Light and space. Friction, a million times of friction.
It's okay. Physical existence will consume you soon. Then, you will be afraid of losing it, when now you fear losing this.
What is this?
Pod world? Existence?
Who are you?
Pod was sad.

About The Author
Kim Rose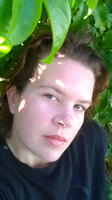 Kim Rose is a freelance writer living in Mudgee NSW. Currently writing contemporary romance, sci fi and a little spiritual ranting. For more, visit the channels:
<https://www.deviantart.com/kalikapsychosis>
<https://www.facebook.com/kim.rose.35110>
<https://www.instagram.com/regina_gina_evilduckqueen/>
Thanks for reading!