By Anthony Woolley
Once upon a time, there was a robot named Tinnie. Tinnie was no ordinary robot; he was a special robot. He looked after Master James and Miss Anne. He was very proud of this. No other robot was permitted to look after the Master and his sister. In fact, no other robot was allowed in the house. Tinnie would play with the children; help them with their schoolwork; take them for walks through the zoo; read them stories in the evening; and tuck them into bed at night. Tinnie performed every task except bathing the children. They could do that themselves.
After several months of Tinnie excelling in his duties caring for the children, he had earned the complete trust of the parents. Master and Miss could be left in Tinnie's charge and the parents were able to take advantage of their newfound freedom. And so, they took a month-long holiday, leaving Master, Miss and Tinnie at home.
On one particularly fine day during this month, Tinnie decided to take Master and Miss to the beach.
"We can't possibly go there!" exclaimed a horrified Miss Anne.
"Why ever not?" inquired Tinnie.
Miss Anne thought for a couple of seconds. And thought for a few more. She thought during the entire day. She didn't touch her lunch and didn't even look at her dinner. All through the night she sat up in bed, thinking, thinking, thinking. Why couldn't they go to the beach? There was a reason, a very important one, but she couldn't think of it. Her parents had told her, and she remembered feeling really upset because of it. But why?
After a few days, Tinnie posed the question again. By now, he was becoming rather worried about Miss Anne's condition. The first law governing his basic operation was causing conflict. Miss Anne's determination to remember why they could not go to the beach meant she had barely eaten or slept. When Tinnie realised she hadn't heard him, he repeated the question.
"Oh, what?" she replied. "I don't remember why we can't go to the beach. It was very important, but it must be okay otherwise I would have remembered it."
"Are we going to the beach then or not?" asked a frustrated Master James.
"Yes!" replied Miss Anne.
***
"Oh, this is great!" cried an ecstatic Miss Anne as she ran along the soft sand with Master James and Tinnie close behind.
The afternoon sky was a dazzling blue. The air was beautifully warm, with a gentle cooling breeze wafting across the sandscape. Tinnie noted these aspects of nature and more. An odd sensation flowed through his positronic pathways. He listened to the susurration of waves on the sand and found it quite relaxing. Yes, that's how he believed the humans would describe the sensation. Relaxing. His positronic pathways were unhampered. There was no conflict in his processing.
A short distance away, a spur of rock jutted out from the sea. At the end of the spur was a larger rock formation covered in guano and nesting cormorants. Standing on the water's edge, near the outcrop, were three figures — another robot and two girls. It appeared the girls were arguing.
"You aren't being fair to him, Melissa. He's got his orders from Daddy", insisted the younger of the two girls.
"And now he has his orders from me." The older girl gestured toward the water. "Swim out to the cormorant rock, Andrew. Go ahead. Now, Andrew."
Tinnie watched and listened to the exchange. He felt the laws governing his processing again causing conflict within him. Those two girls would be unprotected if their robot were to swim out to the rock. He was even more conflicted because he too could not leave his own children.
A scream of delight drew Tinnie's attention away from the argument. He looked at Master James and Miss Anne with...fondness. What were these sensations he was experiencing? Did other robots also have the same feelings coursing through their positronic pathways? Were there others like him or was he alone?
Tinnie re-joined his children and for several minutes they played and ran along the beach. But then, Master James wanted to go swimming. The children started to run towards the water, with Tinnie following close behind. The imperative to protect the children from the crashing waves was strong. As they approached the water's edge, he sensed that Miss Anne had abruptly stopped in her tracks. A sense of worry issued forth; his overriding laws of operation were activating.
Miss Anne stared, dumbstruck as Tinnie continued toward the surf. She had nearly remembered why they shouldn't be there. It was something to do with...
***
The TN1E series of robots had an odd design quirk. Advancements in positronic networking meant robots were now designing their subsequent generation. But the TN1E series were a clone robot, slightly modified to avoid intellectual property disputes. They were a 'knock off' to compete in a market predominantly controlled by USA Robots.
There were also persistent rumours of emergent features in several robot series produced by USA Robots. Those on the orbiting solar power station had reportedly developed religion; the military, on their moon base, had played "hide'n'seek" with one robot in which the mandatory safety laws had been watered down; and there was a robot that had purportedly developed telepathic abilities. The latter was the goal of the manufacturers of the TN1E series, but they were hoping for any emergent features from which they could profit. And they were successful; however, not in the way they intended. One emergent feature from those design changes during the TN1E cloning process had resulted in interesting reactive properties within the TN1E series. It was a feature that could not be removed without great expense. Fortunately, the safety laws governing robotic processing and operations remained in place, thereby satisfying stringent and closely monitored operating guidelines. Consequently, not wanting to waste the financial effort already expended on the TN1E series, the manufacturer settled on a disclaimer.
***
"Wait!" cried Miss Anne.
But it was too late! Master James had already jumped into the surf and Tinnie wasn't far behind. Then Tinnie had jumped into the water and suddenly...
POOF!
"Oh no!" sobbed Miss Anne.
She looked all over the place for Tinnie but couldn't find him. Master James, drenched in the salt water, ran up to her.
"What happened?" he asked, confused.
Miss Anne couldn't reply. Tears streamed down her face. She continued to sob. Then something caught her eye. Down by the water's edge lay a piece of metal glinting in the sun light. She bent down to pick it up and, turning it over, she saw the disclaimer.
"Yes," she sobbed. "That was the reason."
"What was?" asked Master James. He looked over her shoulder to read the text written on the inside of Tinnie's chest plate.
WARNING: DISSOLVES IN WATER. KEEP AWAY FROM BATHS, KITCHENS, LAUNDRIES, POOLS AND LAKES. KEEP INDOORS IN THE EVENT OF FORECASTED RAIN. UNDER NO CIRCUMSTANCES IS THIS ROBOT TO GO TO THE BEACH.

About the Author
Anthony Woolley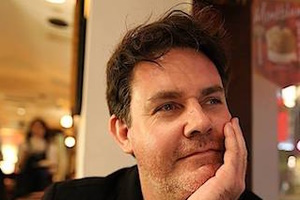 Anthony Woolley resides in Melbourne, Australia, but was born in Hobart in the early 1970s. He is an avid reader, watcher and listener of science fiction.
Taking credit for his interest in science fiction, his mother testifies to seating him in front of a radio one evening in the late 1970s, telling him to, "Listen to this." The radio voice sprang to life, "This is the story of the Hitchhiker's Guide to the Galaxy."
However, long before that, Anthony was trekking through time and space hiding behind couches, cowering from Daleks.
Writing speculative fiction is an on-again-off-again process for Anthony, having flash fiction published in several issues of AntipodeanSF.
Outside of trying to find time to write, Anthony is consumed by his role as a research scientist with a handful of minor scientific publications to his name.