By Gary Estcourt

In the grim half-light two figures faced each other.
"It was a good plan. No, it was a perfect plan," the younger man said.

The older man, Sachem, looked deep into the new arrival, but said nothing.
"It's not how I thought it would be here," said the young man quietly, "I don't know, it's just different, not like in the movies."
Sachem snorted in derision.
The old man's mind drifted back to his own arrival an eternity ago. He'd been young, wild and carefree. But that had been Sachem's shortcoming, being a little too much of each. He had lived his life by his own rules. He'd figured that nothing would catch up with him. Wrong, so wrong. The hardest thing here, the lack of freedom. Unbearable. The freedom to be whomever or whatever he chose, the freedom to go where he wanted when he wanted — gone! And the loneliness.
Sure, there were lots of people here, but always alone. And for each that managed the transition there were a hundred more that lost themselves, trapped themselves. Once that happened, there was nothing to be done for them. Sachem could see the misshapen shadows of those that had lost that battle in the dimness behind the new arrival.
Without turning his gaze back to the young man, Sachem whispered, "Tell me your story."
The young man took a long time to answer. "It was greed pure and simple." He seemed mildly surprised by his own candour, but in this place there were no lies, just simple pure truths, stripped bare of any deception.
"I had money and I wanted more. I came up with this plan, kill my wife and take the insurance money." He faltered, the memory causing his face to writhe. "I set it all up. Found someone willing to give me an alibi. Some money now, a promise of more to come. Then the plan fell into place, and when it did…" He trailed off.
Sachem held himself in check. For this story to have any meaning it had to be given freely, not taken by force or guile.
After a time the other continued. "Alibi sorted. She thought I was going to be away for a few days. I went home and hid in the house until my wife came back. It seemed to take forever. Finally, when it all was quiet I snuck up to the bedroom. I had the gun raised, was ready to do it." His voice shifted. He was pleading now. "I gave up at that point," he said. "It was in that moment I realised how much I truly loved her, needed her. I don't know, I must have made a noise? She opened her eyes. Saw me, saw the gun and then…"
"Enough," said Sachem. He had heard all he wanted to, all he needed to. What happened now was irrelevant. He was sated, his need fulfilled. "I must go," he said simply and began to walk away.
"What about me?" asked the young man; fear giving his voice a harsh edge. "You can't just leave me here alone."
Yes I can, thought the old man.
The young man screamed, "I LOVED HER, IT WAS A MISTAKE". No one gave him absolution.

Sachem stopped and turned; watched in silence.
The young man began to pace around the edges of his confinement. He counted out the perimeter, remeasured it, then repeated it again and again, sobbing occasionally. Eventually, scowling, he fell to the ground and read the words engraved on his own headstone:
Here Lies Robert Williams
Dutiful Husband
Taken By a Heart Attack
While Watching Over His Sleeping Wife
Sachem grinned, reading the same words from a distance. It was a mocking accusation.
Robert Williams looked up and out past the invisible walls that held him in.
Sachem's eyes followed Robert's gaze. Across the graveyard stood other doomed souls ensnared within the bounds of their plots — trapped for all eternity.
The lament came unbidden to Robert's lips. "It was a perfect plan..."

About The Author
Gary Estcourt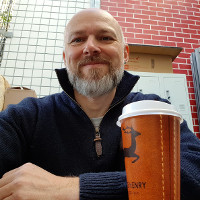 Gary writes about himself:
I am interested in the past, how we experience it and how we can understand its stories. An archaeologist by training, I tend to write in fits and spurts and have a mostly finished novel floating around.
I live on the outskirts of Sydney with my wife and an almost four-year-old. You can usually find me working in the garden or indulging a minor mid-life crisis by trying to relearn to skateboard.
I like coffee, good tequila, running and that slight tightening of your chest as you are about to do something scary.