by Lynne Lumsden Green

Felina strolled past the palace twice a day. The royal guard dogs would get hysterical every time, slobbering and barking and quivering with their fury and rage, as she paraded in front of the iron gates. The cat, cool and sophisticated, would ignore them. Most days, she wouldn't even acknowledge them with a twitch of whisker or tail.
Occasionally, she would sit down and wash her whiskers and ears with exquisite manners.
Felina was a beautiful cat, and as she walked there were ripples of silver, pearl, and black just like fluttering ribbons of watered silk. She was a true aristocrat, all elegant bones and knowing, haughty eyes. Her blue blood was flaunted by her every move.
The King hated her.
She had all the freedom in the world. She walked with her insolent tail held high and jaunty, as close to a wild thing as any mortal creature in his kingdom. A Queen. An Empress. A Witch. A Goddess.
The King envied her. He was a bitter, small-souled man. His people feared him, for he was bad-tempered and cared for little other than his own desires. Felina was well aware of the King's gaze. She was used to people staring at her. Her jewel-jade eyes never met his steaming hot glare. She didn't care ... and her uncaring stung the King like a thousand poisoned needles.
The King wanted her. He wanted her to be frightened by his dogs. He wanted to her to see him, to be reflected in her green eyes — like a kaleidoscope — as a million powerful men worthy of her respect. He wanted to tear her casual elegance to shreds. He wanted to her to see him.
He had tried standing in her path. She had simply walked around him. He had the guards try to capture her, and she had scampered out of reach without a hair out of place. He tried to discover where she came from and where she went, but she kept to her secret ways and remained a mystery.
Finally, the King went to his Royal Wizard with a request. "Curse the cat," he ordered. "I want her freedom, her wildness, to be taken away from her. I want her to be changed into the form of the ugliest, most miserable creature in the kingdom."
Are you certain?" asked the Wizard. "Such a curse may have unexpected repercussions."
"I don't care. Swap her with her opposite number or suffer in my dungeons."
The Wizard bowed and said, "As you wish, milord."
That night, the King went to bed a nearly happy man. In the morning, he was no longer in his own bed. Instead, he discovered he was in a nest of hay in a stable. The King woke up as a stunted, scarred tomcat, as close to ugly as a cat ever gets.
In the palace, a lovely woman woke up, stunned, in the tangle of silken nightclothes and sheets. When the maid brought her breakfast, there was no indication that anything was amiss. It was the same with everything; it was as if the Queen just slotted neatly into the space left by the transformed man.

Now, Queen Felina rules in the palace. She sets the dogs onto every tomcat she sees lurking around the palace gates. She dismissed the Royal Wizard, with a hefty retirement package.
Her people love their kind and graceful queen, so beautiful with her silver hair and pearls and black silk dresses. She strolls around the palace gardens twice a day, cool and content, as she surveys her well-run kingdom with knowing, haughty, green eyes. She is a true aristocrat.

About The Author
Lynne Lumsden Green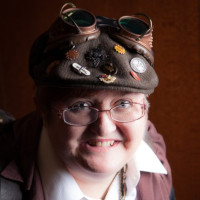 Author's Bio: Lynne Lumsden Green has twin bachelor degrees in both Science and the Arts, giving her the balance between rationality and creativity. She spent fifteen years as the Science Queen for HarperCollins Voyager Online and has written science articles for other online magazines. Currently, she captains the Writing Race for the Australian Writers Marketplace on Facebook and is an assistant editor for the Queensland Writers Centre magazine, Writing Queensland.
She has had flash fiction stories included in Flashspec, edited by Neil Cladingboel, and another in Flashspec Two. A short fantasy story was published in the EnVision anthology, sf-envision.com, another fantasy short story in The Phantom Queen Awakes by Morrigan Books, and in the 2016 Oscillate Wildly Press Monsters Among Us anthology, the short horror story 'Beyond the Walls of Sleep'. Two stories were included in 2017's Return anthology, one a straight fantasy and the other a steampunk narrative. Her latest short story is in Fairytale Riot, volume 4 of The Clarion Call.
You can find her blog at: <https://cogpunksteamscribe.wordpress.com/>.