By Col Hellmuth

It came as such a relief when computers started thinking for themselves—for us really: they'd been thinking for themselves all along. Those silly old movies like Terminator 7... what rubbish! Clarissa despised ghastly science-fiction!
It was wonderful, thought Clarissa: no more beastly arguments over nonsense like opinions, values, or personal fancies. Her parents didn't boss her around anymore like a baby. Even school was fun now—since the "Rationalisation". What good were opinions anyway?—how could anyone be obtuse enough to think they and they alone were in possession of all the facts?
No, that was in the past, thank goodness. Now people (mostly) had the good sense to leave conjecture, supposition, and all that sort of nastiness to computers. The machines had access to all of the relevant data, diligently collected and comprehensively filed with a speed and accuracy that couldn't be equalled by any human, no matter how gifted. And Clarissa was in a position to know: she was gifted; her daddy used to tell her every day — before the Rationalisation — and even she couldn't keep up.
It was wonderful!
Today was Saturday. She had all day (well, seven hours at least) to do whatever recreational activities had been assigned to her. Eagerly she awaited beside the terminal in her sleeping-room for the printout of today's regimen. At precisely eight-o'clock (in perfect sync with the announcement of such by her earpiece) the 3-d printer on her sitting-station desk ticked and whirred as it began its daily task. Clarissa just loved precision!
She had personalised her daily agenda notifications (those malcontents who claim we can't do what we want anymore—how ridiculous) to be presented as a fortune-biscuit, which she now cracked open with her usual girlish squeal of delight (she never ate them, they tasted like polythene, which they were).
A party! Fabulous. She and three (my goodness!) of her friends were to meet up for the day. She scanned down to the bottom of the notification to see who her three approved friends were. She didn't recognise any of the names. What a bonus! Clarissa simply adored meeting new friends — and they were going to see a movie. Maybe two if she and her friends were deemed worthy of the extra study by the surveillance drones! She loved movies (proper movies — not science-fiction) and it would save the awkwardness of trying to make gossip with her new friends. Clarissa loved socialising, it was just the conversational aspect she found a bit dull; like some sort of vague non-localised pain.
***
Clarissa's parents also had the day off. They both sat that morning (as was now expected of them) at the breakfasting table awaiting the day's programme. At precisely eight-o'clock the toaster made a dinging noise in synchronisation with the stereo chime denoting the time from dual earpieces.
Clarissa's father studied his toast carefully, before obliterating the text (24pt Courier: he still had to wear his glasses to read it) burnt into its surface, with a liberal coating of Vegemite.
"What are you up to today, Dear?" enquired Clarissa's mother, a little nervously. She'd noticed the look that had momentarily crept across her husband's face and recognised it for what it was.
"I'm to get absolutely shit-faced on beer and, or whiskey (the directions hadn't specified), push you about for a bit; drink some more, then pass out in a puddle of my own vomit and, or urine behind the couch — preferably all before lunch-time so as I'm not still hungover for work tomorrow."
[Never let it be said that computers don't have a sense of humour or irony.]
"That sounds lovely, Dear." Clarissa's mother was secretly one of those luddites who mourned the passing of free-will since the Rationalisation; though, she reflected sadly: some things essentially remained unchanged. Her husband offered her a half-smile over the newspaper the breakfasting table's inbuilt printer had just self-published. It had recently taken to calling itself Norbert and was beginning to develop pretensions.
Clarissa's mother disliked to be rushed. She liked to wait the extra five minutes (she sometimes worked up the courage to push it to six!) to take her cup of tea, before she perused her day's agenda. She put down the delicate china cup now and carefully scrutinised the leaves on the bottom.
"Looks like I'm to just take it," she announced to no one in particular — as one might speak to one's self or to a non-com.
***
Clarissa skipped down the path to the front gate, parroting the words of today's logic-and-reason lesson streaming from her earpiece, in high-spirited girlish sing-song:
A... I...
Ay,
Aye.
A... I...
An aye for an eye.
Clarissa thought the day was almost perfect. If would be perfectly marvellous if only it weren't for those dirty non-coms: littering the alleyways and blocking the service entrances of the shops; lying in the shade of the jacarandas lining the wide leafy streets, and looking generally untidy [like a file-system error]. It wouldn't do!
[Ignoring directive,
attracting invective.]
Clarissa cautiously approached the place where a rag-clothed non-com lay unmoving, overwatched by a mange-ridden mongrel dog — still mouthing the words provided (personalised and in real-time) by her earpiece. She pulled one leg back in preparation for a kick but quickly skipped away when the dog bared its yellowed teeth and growled at her.
The dirty non-coms not only refused to wear their earpieces, they were too stoic to even bother an attempt at looking alive! It was quite likely few of them still were, she conceded. It wasn't entirely clear what a diet of only non-food entailed (a couple of popular multi-national food-chains came to her mind, but they didn't serve non-coms of course!); Clarissa noted that whatever it was it sure made them skinny and weak-looking. Served the dumb assholes right: all they'd had to do was co-operate like normal people and they'd still be one.
After she'd left, the mongrel dog — satisfied it had protected its non-master from any avoidable misfortune from others — went back to crunching its bloody meal.
She crossed paths with four more languorous non-coms of varying age and sex on the way to the picture-theatre (none of whom had canine protectors). Three she despatched with a swift kick or two from one-or-the-other of her petite steel-capped boots (fashion was modelled after function in today's world, even if you were a nine year-old girl), the fourth was indisputably long gone from this planet in almost every sense but the purely physical; this in itself did not put paid to her fun, but the (excepted sense) smell did.
She would be spending the next few hours confined to a movie-theatre after all. Her new friends may think her uncultured if she were to turn up with brains on her boots, or whiffing like a week-old corpse.
Clarissa couldn't help skipping the rest of the way to the picture-theatre even though she knew she was too old for such childish antics; and it felt funny in the heavy boots. Too shitting bad: she wasn't willing to leave her childhood innocence behind just yet. She was so looking forward to meeting up with her friends. She hoped she'd like them. She wondered what movie they were to watch. She hoped it would be a romance flick — even a romantic comedy. She adored those.
It was.
Fabulous!

About the Author
Col Hellmuth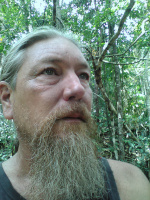 Col Hellmuth lives a quiet, uncomplicated life, off-grid in the Daintree rainforest of Far North Queensland.
He has scratched out a living in a variety of different jobs (and locations) over the years; these days he scratches out words in various sequences, and dreams of a day when he might be able to convert some of these ramblings into food.
When he is not writing or enslaved at work he is usually found bumming around his local beach dodging crocs in his kayak or jamming on the blues-harp.
He doesn't have any fancy letters after his name, or a pet cat, but does read a lot.