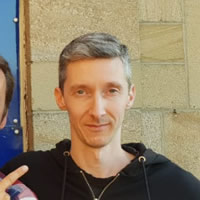 Matthew is an English teacher living in Spain. His love of teaching and writing was kindled by his strong interest in Spanish. Language, he feels, is much more than a means of communication — it contains culture and history and much more. For him, using a second language in everyday life is like seeing the world with a new pair of eyes.
Matthew writes:
"I'm a lifelong fan of comedy writing, comedy SF in particular. I've always wondered why there isn't more of it around. The reference is probably Douglas Adams' Hitch-Hiker's Guide to the Galaxy series but I can't help feeling it could have been better than it was. I think some of the best SF is comedy — it's almost like it's a natural pairing. As a case in point, Red Dwarf often trumps the object of its parody.
I'm a big fan of Iain M. Banks and Arthur C. Clarke, but my favourite SF writer is probably Ray Bradbury — there's always a glint of mischief in his stories that I really enjoy. "