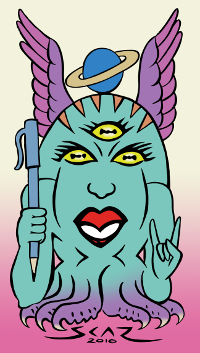 Antoinette Rydyr is an artist and writer working in the genres of science-fiction, fantasy and horror usually bent into a surrealist and satirical angle. She works with fellow creator, Steve Carter and together have produced graphic novels, award-winning screenplays and esoteric electronic music.
In 2018 their collaborative steampunk western novel, "Weird Wild West" parts one and two were published by Bizarro Pulp Press, USA, and part three will be published in 2019.
They have also published graphic novels including, "Savage Bitch", "Weird Worlds", "Bestiary of Monstruum", "Weird Sex Fantasy", and the celebratory resurrection of the infamous "Phantastique", ingloriously presented in full bloody colour!
More grotesque delights can be viewed on their website: <https://www.weirdwildart.com/> and their Amazon Author Page:
<https://www.amazon.com/Carter-Rydyr/e/B07DBYBBZT/ref=ntt_dp_epwbk_1>.