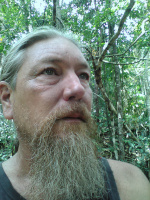 Col Hellmuth lives off grid in the Daintree rainforest.
His day jobs over the years have included electrician, kayak expedition tour guide, service station attendant, traffic controller and chicken catcher.
When he is not enslaved at work he is usually found bumming around his local beach dodging crocs in his kayak or jamming on the blues harp with his fellow band mates, the Cow Bay "Excruders."
He has previously had his stories published in issues 239 and 245 of AntipodeanSF.