By Alistair Lloyd

Point Iceberg
I am dreaming. It's so peaceful.
"Wake up, Hammer."
"Mmm."
"Wake up, Hammer."
"I'm awake."
My eyes flick open. Bright, white light. I aperture my irises and take in my surroundings.
Utilitarian white walls, smooth aluminium benches. False floor tiles. A line of mugs and noodle packs wedged into a shelf at head level. Cables, test harnesses and power supplies fill another.
Something isn't right.
"Where is my body?"
"It's…not here."
This disturbs me less than it should. I try to gauge the tech medic's emotions. Her back is turned but I can see her face, a distorted reflection in the stainless steel of the wall. She is frowning, flicking the air with her finger, scrolling through a readout.
I pivot my eyes as far as they will go, but I'm unable to find my own reflection. My warm-up completes. I'm missing some things. Motivators, for a start. Weaponry. Most of my sensors. Impellors. And my quant-unit checksum is way, way off.
I'm a tin can on a shelf.
"Hey."
Silence.
"Hey."
She turns, still frowning. Stares at me for a moment.
"Hammer, give me your last known Point, please?"
"'Iceberg'."
"Are you sure?"
I check.
"It's the only Point I have. 'Iceberg'."
"Nothing before that?"
"Before what?"
The medic sighs.
"Before Point 'Iceberg'."
"There is, literally, nothing."
"Nothing…" She turns away again, talking quietly to herself. "Nothing."
I would shrug, but I don't have any arms.
"Hey."
"Yes?"
"Where's my body?"
She turns again.
"You don't remember?"
"I've got nothing before 'Iceberg'. And the last 5 minutes."
She opens her mouth to answer. Pauses. Looks down at the floor, uncertain.
"You…it was…destroyed."
"…what?"
"I'm sorry. There was an incident. It…you… You were destroyed."
I'm a tin can sitting on a shelf, I thought.
"I was only just activated, though? Then I was destroyed?"
"I'm sorry, yes."
"That doesn't make any sense."
She closes her eyes, leans back against the stainless-steel wall. The bright light shines lightly off her dark black bob. Lanyard and chip swinging and twisting around her neck.
"Hammer, what's the time?"
I check. "15:04. I've been awake for seven minutes."
"And the date?"
"It's August 15th in… whoa! What?"
"I know, I know."
I check again, but the answer is the same.
"There's…there's something wrong with this hardware, right?"
"No…no…" she replies.
"Right?"
"No…let me explain."
"3 years?!"
"Let me explain…"
"3 years, 2 months, 15 days?!"
"Hammer…"
"One thousand, one hundred and seventy-one days?!"
"Hammer! Do you want me to explain, or not?"
In her tone I detect frustration, fear and something that can only be described as…maternal. The pale tattoo under her right eye catches the light. A clone, infantry/medic class. Third Generation.
"Sorry. I'm listening."
The Third breathes out heavily and sits down in the swivel chair before me. Her dark eyes, black iris and pupil, slide up from the floor to regard me.
"I don't know how else to tell you this, but you've been wiped."
I don't have eyes, even ones as artificial and deep as hers. I'm incapable of blinking at her in disbelief.
"Wiped? Why?"
"That is what I'm trying to figure out. It's taken me the best part of three weeks to get you to this stage. This Point is the first viable checkpoint I've been able to restore. 'Iceberg'."
'Iceberg'. My ninth checkpoint backup. My root date tells me I've been around for a lot longer, and yet the Third sitting in front of me tells me that I'm missing most of my life. Something has gone horribly wrong.
"So…my other Points?"
The Third stands and lifts a box from her workbench, tilting it down towards my optical inputs.
"These. There's a bunch of them. Some mil-crypted, some partially damaged. I've been working through them the last couple of months, cleaning them up and trying to figure out the sequence. It's trial and error. I have no idea what the chronology is"
The box is full of backup image wafers, a multi-dimensional photo album. Snapshots of my life. Marred by carbon scoring and dust. One has nearly snapped in half.
Someone has tried to kill me, and my memories along with it.
"I…I…" This is something my engineers and behavioural psychs have not prepared me for.
"I know, I'm sorry." The Third stands again, walking over to where I sit on the shelf. "I'm going to need your help, and it's not going to be easy on you."
The Third looks back at the box, and then to me again.
My whole life, in that box.
"What do you need me to do?"
"I'm going to have to restore you with each of these, as I crack them. And you're going to need to tell me what you know. It's…not going to be easy on you. I have another unit that I am going to restore the Points into… a copy of yourself, so to speak. I need you to be there. I need you to be there… for yourself."
"Be there for myself."
"Yes. And, to help me."
"Help you…do what? I am a Hardened Autonomous Military Recon unit. I collect intel, defend the squad, work as part of a team. Diagnosis is not my thing."
"Hammer… somebody destroyed you. Did everything possible to send you back to root config with a blank slate."
She pauses, opening her arms.
"You're going to be gathering evidence on yourself, on the mission, on what actually happened. You're going to be doing reconnaissance on… past versions of yourself."
She lets this sink in, as do I.
"You want to find out who murdered me, and why."
The Third allows herself a wry smile.
"Yes, I do."
If I could smile back, or even nod, I would. Instead, my cognitive reference routines produce an apt reference.
"Agatha Freakin' Christie. Let's do this."
***
Point Bacchus
I'm bored.
"Wake up, Hammer."
"I am."
"Not you. This one."
The Third is bent over a brushed metal box next to me. Crocodile clip wires are splayed dreadlocks curling and folding back in on themselves. A faint haze of infrared pulses out of my former-self-clone like the dying coals of a campfire.
Ping. There I am.
"Where's my body?"
"I hear you, sister."
"Quiet, you." The Third hisses in my direction.
"Where's my squad? They were just here."
"Hammer, you've been…relocated. What is your last restore point?"
"Point 'Bacchus'."
The Third nods, scrawling on her pad.
"Where's my squad? The mission…"
I am so gung-ho. This version of me is so patched up on combat spec I can almost see the generic mount box turning khaki.
The Third continues.
"Hammer, I'm going to have to explain a few things. The mission was not a success. There was…an incident. We're trying to understand what went on."
Five seconds of silence.
"My clock is wrong. And I'm getting a strange echo."
The Third glares in my direction. I dial down my local-net beacon.
"I know", she replies. "I'm trying to figure that out."
"You said 'we'."
Gee, smart and gung ho. What a soldier.
She lets it slide.
"I need a debrief, Hammer. Tell me about the crew. Tell me what you know."
I can't remember the crew. I can't remember anything earlier than this morning. My clone starts reciting a list, like a drill sergeant calling out names for latrine duty.
"Sarge, squad leader. Hannon, intelligence officer. Xu – 2nd Gen - Digital Warfare Ops. Gibson, wet work. Raj, engineering corps. Hammer, Recon Drone."
"'Wet work'?"
Yep. Someone had to carry the knife.
"The mil spec term is 'Special Ops', Third."
"OK then."
"Where are they?"
The Third exhales and puts her pad down.
"They're dead, Hammer. And so were you."
I can't remember them.
My clone doesn't drop a beat.
"I'm a restore."
"That you are."
"I am sorry, Third. I do not have any information on the outcomes of the mission."
Wow, I'm gung-ho AND cold. This is one of those moments that humans refer to, when they hear a recording of their own voice and go "Do I really sound like that?".
I really sound like that. I don't like my old self.
The Third has a list of questions.
"Hammer, I understand what you are saying. However, you were spec'd up and briefed for the mission and I have a few questions."
"I'm sorry ma'am but I'm going to need clearance."
Yep. I really don't like myself.
"Ah, sorry. I forgot." The Third swipes a couple of things away on her pad, and blinks on an app. Whatever was in the cypto-code she cast has a noticeable effect. If it were possible for an aluminium mimic box to appear to stiffen and sit up straighter, I'd swear that's what my needs-a-personality-recode clone does.
"Ma'am! My apologies, ma'am. I had no idea, ma'am…"
I squint a look at the crypto-code auth. I'm a little intimidated myself, and I'm not even the one being interrogated.
"That's quite all right, Hammer." The Third settles back into her chair. "I should have advised you earlier. Now — let's begin."
I'm going to spare you the details of the inquisition.
When she was done the Third tosses her pad to one side and almost as an afterthought cuts the power to the chassis. It was like watching someone get shot without warning.
"Ouch." I venture. "That was me! You treated me like…like… a piece of hardware."
The Third swivels and winks at me. "Sorry. Clone emotions. Everyone's replaceable."
I'm beginning to think that the Third is more machine than I am.
***
Point Drama
"Wake up, Hammer."
Here we go again.
"…"
"Wake up, Hammer."
"…mmm…ggg…. K#k#k…"
I'm not sounding well. The Third swears quietly. In the air of the lab, I detect what can best be described as the smell of hot Bakelite and imminent component failure.
"Human IO is bunked." I venture, "You'll have to go old school."
"Any chance I can patch you in directly?"
"No way. I'm not riding that nightmare machine. I might catch something funky."
Rummaging through a drawer, the Third pulls out a twisted patch cable and jacks her pad to the defective chassis encasing my most recent reincarnation. The notifications and texts flare red as I tap into the feed. Yep. I'm one sick puppy.
Query: Status, major malfunction. Clock alert, temporal anomaly. Actuator listener MULTIPLE FAILS [Dump][Dump][Du….]
This goes on for a few pages before I intervene and force my earlier self to restart in Diagnostics mode, truncating the incessant complaining.
"What can you tell me?" asks the Third.
I'm scanning the most obvious, prioritised faults and errors. There are some severe higher function corruptions, and large chunks of missing logging.
"It's what's left of a Point…'Drama'. Ha! Apt name. All the hallmarks of partial EMP damage, coupled with physical trauma which has corrupted logging integrity and records of the Mission Observations."
A small eddy of grey blue smoke drifts from the chassis and is sucked quietly into the overhead venting.
"Is there anything recoverable? Apart from the Point identification? What can you find in MO?"
I start sifting through Mission Observations. Half the entries are missing, the other half aren't indexed. I'm playing jigsaw puzzles without the box lid. The picture is not pretty.
"They were en route. To the mission. I haven't got the full briefing, but I've appeared to have made a few sitrep notes based on behavioural observations."
"Go on."
"Have a look at this fragment:"
SR Obs: Crew is uneasy. Hannon has [corrupted] no consequence. [corrupted] may be under suspicion with [missing data] complicit in misleading intent of the [missing data]. Xu is not aware of [corrupted] will remain that way.
The silence that follows is punctuated by the terminal sound of the restore image firmware wafer burning out with a resolute crackle.
The Third waves her pad in the air, coughing and swearing.
"There was one more thing", I add.
"What?"
"There was a traitor in the squad. Someone with a secondary mission. And I think I knew who it was. Well – the me back then did, anyway."
The Third watches in vain as the spectral wisps of my restored memory are inhaled by the ventilation duct. Silence.
"Now what?"
"I'm going to find the previous image to that one. See what it – you – knew."
"You're trying to locate the point in which I knew something was up?"
"Yes."
"And if that doesn't work?"
She pivots in her chair and tugs a thick harness cable from a wall hook. Chubby and soft like a baby's leg with a menacing interface plug gleaming at the business end.
"Then…I'm going to have to send you in."
I shouldn't have asked.
***
Point Centaur
Next up. I'm back to my gung-ho self.
The baby-leg cable lays across the bench, yet unused.
"I'll need clearance first."
"Ma'am, yes, ma'am!"
We're at Point 'Centaur'. I'm briefed and ready to roll. Young, dumb and full of military goodness. A far cry from the twitching, smoking mess we analysed last week.
"Hammer, tell me about your mission."
"Ma'am, the mission parameters describe a recon and retrieval operation. We are to escort SA Hannon to a defined location and provide logistical support while he contacts and locates a deep Operative."
"Expand. Define roles and terms of reference."
'Ma'am. Sarge and Gibson to provide safe passage. Raj, Xu and HAMR unit to establish perimeter and sigint. In the dark operations with no external oversight. Parameters established and lodged by Central AI and green lit by brass, ma'am."
"And when Hannon located the Operative, what then, Hammer?"
"Ma'am?"
"When he located the operative. What was Hannon going to do, then? What were your mission success parameters?"
There is a barely perceptible pause. Only a couple of cycles. The Third doesn't notice.
"Ma'am, remaining parameters were for SA Hannon's eyes only, ma'am."
I just watched myself lie. It was the machine equivalent of a slow blink.
"So… let me get this straight. You squad up, head out there, dark operation, SA Hannon meets someone… and that's it?"
"Ma'am."
The Third is about to hit the kill switch again, when she pauses and looks back at her notes.
"Hammer, did you have any reason to suspect any members of the squad? Did any of your observations make you think that any mission participants may have a… secondary agenda?"
There! Again, that cycle pause delay.
"Ma'am, no, ma'am. The squad were selected at random by Central AI, ma'am."
Flick. And the 'Centaur' is vanquished.
"I'm lying."
The Third frowns.
"You're what?"
"That restore point. I'm hiding something. Or, rather, when you asked me specific questions, I'm giving you a canned answer."
"You're… this… Ah, c'mon. Have you seen the magnitude of this clearance code?" She waggled her pad in the air.
"It's very impressive."
"And there is something it's… you're… not telling me?"
"I'm telling you that there is something I'm not telling you."
The Third stares at me for a while, and then turns and looks back at the box of remaining image wafers.
"Pick a prime number between one and nine."
"Seven."
The Third smiles darkly and holds up a wafer, scooping up the baby-leg cable in her other hand and advancing towards me.
"They always say Seven."
I know that whatever happens next, it's not going to be pretty.
***
To be continued in Part Two...

About the Author
Alistair Lloyd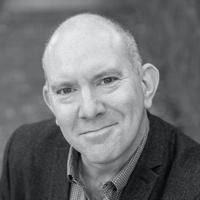 Alistair Lloyd is a Melbourne based writer and narrator who has been consuming good quality science fiction and fantasy most of his life. 
You may find him on Twitter as <@mr_al> and online at <alistairlloyd.com>.