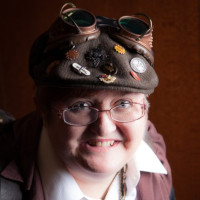 Lynne Lumsden Green lives in Queensland, Australia, though – in reality – she lives inside her head (it's cosy in there). She writes both fiction and nonfiction.
She has had stories and articles published by Queensland Writing magazine, DailySF, AntipodeanSF, Every Day Fiction, Aurealis magazine, and in over a dozen anthologies of fiction.
She wants her stories to live in her readers' heads.
You can find her blog at: <https://cogpunksteamscribe.wordpress.com/>.