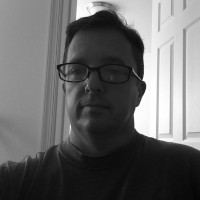 Andrew writes science-fiction and fantasy from the state of Maryland on the eastern coast of the United States, often drawing ideas from jogs through forest trails at sunrise or a tasty beer at sunset.
Andrew writes each story with the goal of giving readers something they will enjoy, without relying on the typical, predictable, or cliche'. His work has previously appeared in AntipodeanSF, 365 Tomorrows, and soon Daily Science Fiction.
When Andrew isn't writing chances are he's playing guitar or bass, exploring abandoned places, or spending quality time with a bulldog. Andrew hopes you enjoy this story, and he will continue to try and write stories that you'll love to read!