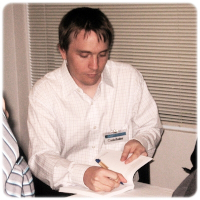 Jacob Edwards hails from Brisbane and spends much of his time either writing or indulging his love of 80s synthpop.
He served two tours of duty stacking deckchairs for Andromeda Spaceways and has contributed a chic 60s-era Doctor Who monograph (#32: The Romans) to Obverse Book's Black Archive range.
Jacob can be found online at <www.jacobedwards.id.au> or very occasionally tweeting <@ToastyVogon>.