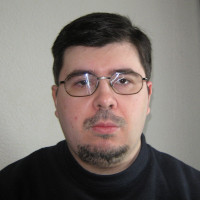 Marcel Gherman was born in 1978, in Chisinau, Republic of Moldova. Since the age of 15, he has published over 100 articles and essays in the press in Moldova, and for over a decade has had regular columns in cultural magazines Sud-Est Cultural and Contrafort. Between 1994 and 2003 Marcel hosted weekly shows on electronic music at Radio Moldova — and makes his own music under the pseudonym Megatone.
Mr Gherman currently works as secretary in charge ofthe magazine Sud-Est Cultural, and writes prose and essays in his native Romanian language. He is a member of the Writers Union of Moldova, the Writers Union of Romania and of the International PEN Club.
He is two-times winner of the Writers Union of Moldova Award —for "Debut", 2012, and at the category Books for Children and Youth, 2015, the City Hall of Chisinau Award for Youth in the category Literature, 2012, and the Publishers Union of Moldova Award 2015.
Published books: "Cartea viselor" (The Book of Dreams), Arc Publishing House, 2011; fantasy short fiction "Generatia Matrix" (The Matrix Generation), 2013; essays "Cer albastru deasupra Arcadiei" (Blue Skies Over Arcadia), Prut Publishing House, 2014; science-fiction novel for teenagers "Universuri paralele" (Parallel Universes), Stiinta Publishing House, 2017, (includes science-fiction modular novel Multiverse, darkfantasy novel "Last Testament of the Kingdom of Nirgalia", and the collection of fantasy short stories "Tales from the Realm of Pandava").