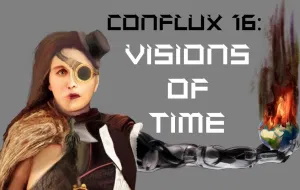 Here's an opportunity!
This year's Conflux and CSFG 2020 short story competition deadline has been extended until Friday October 16 2020.
Get writing!
Stories must be 4000 words or under, in any speculative fiction genre, on the theme, "Apocalypse". The competition is open to all Australian residents and members of either the Canberra Speculative Fiction Guild or Conflux 16. Entry is $5, unless you are a member of the CSFG or Conflux 16 or you are aged 16 or under, in which case it is free!
The winning stories will be published online as part of the Conflux October 2020 activities.
Prizes
First prize is $200 and a 2021 Conflux 16 membership! Second prize is $50 and a discounted Conflux 16 membership, and third prize is $25 and a discounted Conflux 16 membership.
GuidelinesStories should be written in English, suitable for a general audience (ie, no gratuitous violence or erotica), and, of course, your own original, unpublished work.
Please submit them in the following format: RTF, double spaced, courier font, with the story title in the top right header.
Make the first page of your document a cover sheet that includes your name, contact details and story title (we'll remove this before we give it to the judges).
YOUR NAME MUST NOT APPEAR ON ANY OF THE OTHER PAGES OF THE STORY.
Get it to <This email address is being protected from spambots. You need JavaScript enabled to view it.> before midnight on Friday 16 October 2020.
Fees
Fees can be paid by direct deposit:
BSB 083-004A/C 79-147-4332
Conflux Incorporated
Please put reference: 2020Short.