SF Quotes
" Politicians should read science fiction, not westerns and detective stories. "
Arthur C. Clarke
Facebook AntiSF
Login Form
Why Not Visit

Do you like your SF in audio?
Of course you do. Well, why not visit Beam Me Up Podcast and radio show, often featuring selected stories from AntipodeanSF, run by your host Paul Cole of WRFR.
Next Issue
Cappuccino Twilight
By Ed Errington
The Strike
By Grant Terry
The Goodbye
By E A Fow

The Intercept
By Luis Shalako
The Facts In The Case of K Klown
By Anthony Owens
Searching
By Mark Tremble
Art, Ink
By Jason Fischer & Martin Livings
End of An Era
by Antoinette Rydyr
Popular Stories
AntiSF for E-Readers
Electronic Publications
Electronic publications from AntiSF.
E-Pub versions created by Mark Webb.
These files are e-reader versions of AntipodeanSF specifically tailored for viewing on electronic devices that may not have a web browser, or for the perusal of AntiSF while offline. Try them on your i-phone, i-pod, i-pad, android tablet, android phone, Kindle or any other e-reader device.


AntipodeanSF by Ion Newcombe (editor), Mark Webb (epub creation), and various contributors to each issue is licensed under a Creative Commons Attribution-NonCommercial-NoDerivs 3.0 Unported License.
Based on a work at http//antisf.com.au.
Permissions beyond the scope of this license may be available at http://antisf.com.au/contact.
New Books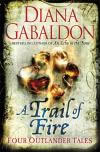 A Trail of Fire
Diana Gabaldon
Four extraordinary stories featuring characters from the bestselling Outlander series.
In LORD JOHN AND THE PLAGUE OF ZOMBIES, Lord John Grey is posted to Jamaica to assist the Governor as he faces a most unusual kind of uprising among the colony's slave population.
In THE SPACE BETWEEN, Jamie Fraser's step-daughter, Joan, is on her way to an abbey in Paris to become a nun - but when she meets the Comte St Germain, a wealthy French aristocrat rumoured to deal in the occult - she discovers her destiny lies on quite a different path.
Read more...