SF Quotes
" The Three Laws Of Robotics
A robot may not injure a human being or, through inaction, allow a human being to come to harm.
A robot must obey orders given to it by human beings, except where such orders would conflict with the First Law.
A robot must protect its own existence as long as such protection does not conflict with the First or Second Law
"
Isaac Asimov
Facebook AntiSF
Login Form
Why Not Visit

Do you like your SF in audio?
Of course you do. Well, why not visit Beam Me Up Podcast and radio show, often featuring selected stories from AntipodeanSF, run by your host Paul Cole of WRFR.
Next Issue
Cappuccino Twilight
By Ed Errington
The Strike
By Grant Terry
The Goodbye
By E A Fow

The Intercept
By Luis Shalako
The Facts In The Case of K Klown
By Anthony Owens
Searching
By Mark Tremble
Art, Ink
By Jason Fischer & Martin Livings
End of An Era
by Antoinette Rydyr
Popular Stories
Wesley Parish is an SF fan from early childhood. Born in PNG, he enjoys reading about humans in strange cultures and circumstances; his favourite SF authors include Ursula Le Guin, Fritz Lieber, Phillip K. Dick, J.G. Ballard and Frank Herbert. He lives in Christchurch, NZ, is an unemployed Java and C programmer, and has recently decided to become a mad ukuleleist, flautist and trombonist, and would love to revert to being the mad fiddler and pedal steel guitarist.. "Where oh where has my little pedal steel got to ... ?"

New Books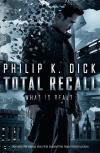 Total Recall (Film Tie-In)
Philip K. Dick
First published in 1966 (WE CAN REMEMBER IT WHOLESALE), this classic Sci Fi novel was first adapted for the big screen in 1990 under the name Total Recall, starring Arnold Schwarzenegger.
Philip K Dick's classic short story tells the story of Douglas Quail, an unfulfilled bureaucrat who dreams of visiting Mars, but can't afford the trip. Luckily, there is Rekal Incorporated, a company that lets everyday stiffs believe they've been on incredible adventures.
The only problem is that when technicians attempt a memory implant of a spy mission to Mars, they find that real memories of just such a trip are already in Quail's brain.
Read more...