SF Quotes
" Violence is the last refuge of the incompetent. "
Isaac Asimov, Foundation
Facebook AntiSF
Login Form
Why Not Visit

Do you like your SF in audio?
Of course you do. Well, why not visit Beam Me Up Podcast and radio show, often featuring selected stories from AntipodeanSF, run by your host Paul Cole of WRFR.
Next Issue
Cappuccino Twilight
By Ed Errington
The Strike
By Grant Terry
The Goodbye
By E A Fow

The Intercept
By Luis Shalako
The Facts In The Case of K Klown
By Anthony Owens
Searching
By Mark Tremble
Art, Ink
By Jason Fischer & Martin Livings
End of An Era
by Antoinette Rydyr
Popular Stories

David has been writing science fiction for about 6 years and Marvel comics fan fiction stories for about 9 years.
He has had four collections of short science fiction stories and two science fiction novellas published. These can all be found on Amazon.
David has been a regular contributor to both the AntipodeanSF and the Beam Me Up Pod cast sites.
He wrote a 12 part Alien Hunter series for the Golden Visions science fiction Magazine which ran for all of 2011 and was still on the GVM site in early July 2012 when that site closed down.
David has also been published on several other sci-fi sites including Bewildering Stories.
Before settling down to a less than distinguished Australian Federal Public service career he was something of a drifter with jobs as diverse as grape picker, insurance agent, oil refinery worker, furniture removalist, painter, van driver, factory worker, dog man, and labourer.
Nowadays, as a consultant, he provides economic, accounting (and occasionally actuarial) advice to various Australian Federal Government Departments and hopes to retire and write science fiction full time in about 14 months.
He lives in Canberra, Australia with his wife Joy and dog Maddy, and has a married daughter and young grandson.


New Books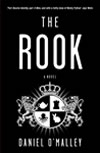 The Rook
Daniel O'Malley
?Dear You, The body you are wearing used to be mine.?
So begins the letter Myfanwy Thomas is holding when she awakes in a London park surrounded by corpses -- all wearing latex gloves (and startled expressions). With no memory of who she is or how she got there, the only way she can discover her identity and escape those who want to destroy her is to follow the instructions in a series of letters left behind by her former self.
She learns that she is a Rook, a high-level operative in the Checquy, a secret government agency that protects the world against supernatural threats while keeping the populace in the dark. In her quest to save herself and unmask a traitor, Myfanwy must learn to harness her own rare, potentially deadly supernatural ability, and thwart a conspiracy more vast than she could ever have imagined.
Read more...