SF Quotes
" Any sufficiently advanced magic is indistinguishable from technology. "
Larry Niven
Facebook AntiSF
Login Form
Why Not Visit

Do you like your SF in audio?
Of course you do. Well, why not visit Beam Me Up Podcast and radio show, often featuring selected stories from AntipodeanSF, run by your host Paul Cole of WRFR.
Next Issue
Cappuccino Twilight
By Ed Errington
The Strike
By Grant Terry
The Goodbye
By E A Fow

The Intercept
By Luis Shalako
The Facts In The Case of K Klown
By Anthony Owens
Searching
By Mark Tremble
Art, Ink
By Jason Fischer & Martin Livings
End of An Era
by Antoinette Rydyr
Popular Stories
| | | | |
| --- | --- | --- | --- |
| Sydney Freecon 2012 - Writing Competition, Fame, & More | | | |
The 2012 Sydney Freecon, this year's only FREE-ENTRY Sydney SF&F event with writers is planned for November to include an audience-judged short-short SF&F writing competition. This will be run in sessions:
5:30pm to 7:45pm Friday night
9am to 4pm Saturday
1pm to 4pm Sunday
Will include appearances by NSW and ACT speculative fiction writers, discussions of topics of interest to readers of SF, and presentations from local SF&F publishers.
Please note that all who take part in this year's Freecon may claim to be "World Famous in some parts of Bankstown!"
From: Garry Dalrymple
For more information Contact Garry Here.
New Books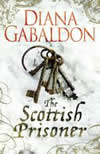 The Scottish Prisoner

Diana Gabaldon

The latest novel from the international bestseller.

In this highly-anticipated new novel, Diana Gabaldon brings back one of her most compelling characters: the unforgettable Lord John Grey - soldier, gentleman and no mean hand with a blade. Set in the heart of the eighteenth century, Lord John's world is one of mystery and menace.
Read more...