SF Quotes
" The Three Laws Of Robotics
A robot may not injure a human being or, through inaction, allow a human being to come to harm.
A robot must obey orders given to it by human beings, except where such orders would conflict with the First Law.
A robot must protect its own existence as long as such protection does not conflict with the First or Second Law
"
Isaac Asimov
Facebook AntiSF
Login Form
Why Not Visit

Do you like your SF in audio?
Of course you do. Well, why not visit Beam Me Up Podcast and radio show, often featuring selected stories from AntipodeanSF, run by your host Paul Cole of WRFR.
Next Issue
Cappuccino Twilight
By Ed Errington
The Strike
By Grant Terry
The Goodbye
By E A Fow

The Intercept
By Luis Shalako
The Facts In The Case of K Klown
By Anthony Owens
Searching
By Mark Tremble
Art, Ink
By Jason Fischer & Martin Livings
End of An Era
by Antoinette Rydyr
Popular Stories
| | | | |
| --- | --- | --- | --- |
| Call for Writers - Sydney Freecon 2012 | | | |
Garry Dalrymple, publisher of Kipling's Science Fiction, TBS&E ANZAPA newsletter (available on the Efanzine website), Freecon convenor, and organiser of the Friday night Sydney Futurian SF&F discussion meeting, is looking for up to 12 published SF&F writers to take part in this year's Sydney Freecon in November, the free-entry SF&F event that tries to offer "Something for SF&F readers, sci-fi viewers, published SF&F writers, and emerging writers.
Interested?
If so, please contact Garry via this contact form.
Alternatively, here is the postal address:
The Sydney Freecon,
Local PO Box 4152
Bexley North, NSW 22087
Or telephone: 02 97185827
New Books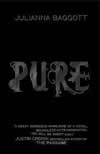 Pure

Julianna Baggott

A stunning coming of age novel set in a richly imagined post-apocalyptic world. For fans of THE PASSAGE and THE HUNGER GAMES this is a fantastic addition to the growing cannon of dystopian fiction.

We know you are here, our brothers and sisters. We will, one day, emerge from the Dome to join you in peace. For now, we watch from afar, benevolently.

Pressia Belze has lived outside of the Dome ever since the detonations. Struggling for survival she dreams of life inside the safety of the Dome with the 'Pure'.
Read more...