SF Quotes
" Any dogma, primarily based on faith and emotionalism, is a dangerous weapon to use on others, since it is almost impossible to guarantee that the weapon will never be turned on the user. "
Isaac Asimov, Foundation
Facebook AntiSF
Login Form
Why Not Visit

Do you like your SF in audio?
Of course you do. Well, why not visit Beam Me Up Podcast and radio show, often featuring selected stories from AntipodeanSF, run by your host Paul Cole of WRFR.
Next Issue
Cappuccino Twilight
By Ed Errington
The Strike
By Grant Terry
The Goodbye
By E A Fow

The Intercept
By Luis Shalako
The Facts In The Case of K Klown
By Anthony Owens
Searching
By Mark Tremble
Art, Ink
By Jason Fischer & Martin Livings
End of An Era
by Antoinette Rydyr
Popular Stories
| | | | |
| --- | --- | --- | --- |
| The Australian Science Fiction Bullsheet, May 2012 | | | |
---
The Australian Science Fiction Bullsheet, May 2012
---
The MELBOURNE SCIENCE FICTION CLUB meeting on Friday 18 May will celebrate the 60th anniversary of the club. There will be cake and light refreshments between 8--11pm at 74 Melville Road West Brunswick 3057. Congratulations on the milestone. More importantly, cake! (Contributed by James Allen)
The book TRAILER for The Monster: Troubletwisters 2 by bestselling Australian authors Garth Nix and Sean Williams is available for viewing on YouTube. The book itself is out this month. (troubletwisters.com.au)
Garth Nix has also recently been involved in developing an online game, Imperial Galaxy which ties in with his new release A Confusion of Princes and has an article on the game in this month's Bookseller & Publisher. (Contributed by Lara Wallace)
Continuum 8 (Melbourne) is SEEKING PANELLISTS for their list of panels, as well as people interested in doing presentations (especially sciency) or running workshops that fit in with the craft theme. There's still time to suggest a panel topic too. Email This e-mail address is being protected from spambots. You need JavaScript enabled to view it . (continuum.org.au)
NEW RELEASES
IRON SKY, the part-Australian production about space Nazis, will be released in Australia on May 10.
Australian author TIM O'BREE has released a new SF book entitled Galaxy Battle League (Part One of Eight), available via the Galaxy Battle League website, and through Amazon. (galaxybattleleague.com; contributed by Sally Knight)
As mentioned above, THE MONSTER, sequel to Troubletwisters by Garth Nix and Sean Williams is out this month.
Upcoming this month from KATE SMITH is What Night Hides. Set in the same world as her recent release Illumé, What Night Hides introduces the darkly enchanting world of the Nichtthane, immortal peacekeepers of the supernatural world. Sign up to the Winterbourne Publishing newsletter to receive news of its release. (winterbournepublishing.com.au)
AWARDS AND NOMINATIONS
The AUREALIS AWARDS ceremony will be held on Saturday 12 May. Doors open 7.30pm for an 8pm start, and award-winning author Kate Forsyth will act as Master of Ceremonies. (aurealisawards.com)
Nominations are now open for a DOWN UNDER FAN FUND delegate from North America to Continuum 8 in June. Founded in 1972 and supported by donations, DUFF sends a delegate from North America to Australia--New Zealand, or vice versa in alternate years. Nominations will be accepted until midnight 11 May Pacific Daylight Time. The ballot will be published as soon as possible thereafter with candidates, nominators, and platforms. Voting will probably close 31 May. The ANZ Adminstrator is David Cake. Dave can be reached at . (Via Anthony Porter)
CONVENTIONS
SUPANOVA Pop Culture Expo will be in Sydney and Perth in June. (supanova.com.au)
Continuum 8 (Melbourne's SF and pop culture convention) will take place on the Queen's Birthday Weekend, 8--11 June 2012. Guests of Honour are Kelly Link, Alison Goodman, and Sue-Ann Barber. (continuum.org.au)
The Unseen University Convivium 2012 takes place from 6--8 July 2012. (ausdwcon.org)
CON 9 will be held in Melbourne on 14--15 July 2012. Con 9 is a not-for-profit science fiction convention devoted to the "golden age" of classic Sci-Fi movies, TV shows and radio programmes up to 1965 (though the primary focus is mainly the 1950s). For the fans, by the fans. For membership and more information check out the website. (con9fromouterspace.com)
New Books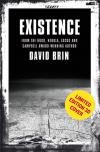 Existence

David Brin

A groundbreaking, mind-blowingly ambitious new science fiction novel from the multiple award-winning classic author David Brin.

Our continued existence was never a given.

We've always wanted to know our destiny. But when the end seems in sight, how will the world react?
Read more...