SF Quotes
" Never let your sense of morals prevent you from doing what is right! "
Isaac Asimov, Foundation
Facebook AntiSF
Login Form
Why Not Visit

Do you like your SF in audio?
Of course you do. Well, why not visit Beam Me Up Podcast and radio show, often featuring selected stories from AntipodeanSF, run by your host Paul Cole of WRFR.
Next Issue
Cappuccino Twilight
By Ed Errington
The Strike
By Grant Terry
The Goodbye
By E A Fow

The Intercept
By Luis Shalako
The Facts In The Case of K Klown
By Anthony Owens
Searching
By Mark Tremble
Art, Ink
By Jason Fischer & Martin Livings
End of An Era
by Antoinette Rydyr
Popular Stories
| | | | |
| --- | --- | --- | --- |
| The Revenge Of The Dwarves | | | |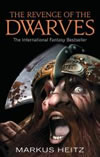 The Revenge Of The Dwarves

Markus Heitz

The international bestselling fantasy epic continues . . .

Life has not been easy for battle-weary Tungdil the dwarf. But this heroic warrior can't rest yet, as he must now face the most formidable enemy the kingdom has ever encountered.

A new evil is terrorising the land of Girdlegard. Monstrous hybrid creatures are on the rampage, leaving a trail of destruction in their wake. They are out to steal an artefact which is vital for the kingdom's defence, and whoever holds it could control the world.

With the existence of the dwarves under threat, Tungdil must resort to his trusty double axe and risk everything he knows to save his country from annihilation . . .

Hold your breath for THE REVENGE OF THE DWARVES, the next thrilling instalment in this spectacular epic from international bestselling author Markus Heitz.

About the Author

Markus Heitz was born in 1971 in Germany. He studied history, German language and literature and won the German Fantasy Award in 2003 for his debut novel SHADOWS OVER ULLDART. His Dwarves series is a bestseller across the continent. Markus Heitz lives in Zweibrucken.

Previous Books:

The War of the Dwarves, The Dwarves



New Books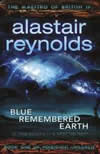 Blue Remembered Earth

Alastair Reynolds

BLUE REMEMBERED EARTH is the first volume in a monumental trilogy tracing the Akinya family across more than ten thousand years of future history...out beyond the solar system, into interstellar space and the dawn of galactic society.
Read more...