SF Quotes
" May the Force be with you! "
George Lucas, Star Wars
Facebook AntiSF
Login Form
Why Not Visit

Do you like your SF in audio?
Of course you do. Well, why not visit Beam Me Up Podcast and radio show, often featuring selected stories from AntipodeanSF, run by your host Paul Cole of WRFR.
Next Issue
Cappuccino Twilight
By Ed Errington
The Strike
By Grant Terry
The Goodbye
By E A Fow

The Intercept
By Luis Shalako
The Facts In The Case of K Klown
By Anthony Owens
Searching
By Mark Tremble
Art, Ink
By Jason Fischer & Martin Livings
End of An Era
by Antoinette Rydyr
Popular Stories

The AntipodeanSF Radio Show delivers audio from the pages of this magazine.
The monthly program features all of the issue's stories, usually narrated by the authors themselves, with occasional reviews, news, interviews, or longer stories.
The AntipodeanSF Radio Show is broadcast in the Nambucca Valley, on the Mid North Coast of NSW on one Sunday evening per month, on community radio, 2NVR, 105.9FM.
You can find every episode online here: http://antisf.libsyn.com
Or you can listen to the latest show right here, right now:
New Books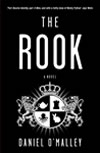 The Rook
Daniel O'Malley
?Dear You, The body you are wearing used to be mine.?
So begins the letter Myfanwy Thomas is holding when she awakes in a London park surrounded by corpses -- all wearing latex gloves (and startled expressions). With no memory of who she is or how she got there, the only way she can discover her identity and escape those who want to destroy her is to follow the instructions in a series of letters left behind by her former self.
She learns that she is a Rook, a high-level operative in the Checquy, a secret government agency that protects the world against supernatural threats while keeping the populace in the dark. In her quest to save herself and unmask a traitor, Myfanwy must learn to harness her own rare, potentially deadly supernatural ability, and thwart a conspiracy more vast than she could ever have imagined.
Read more...