SF Quotes
" Any dogma, primarily based on faith and emotionalism, is a dangerous weapon to use on others, since it is almost impossible to guarantee that the weapon will never be turned on the user. "
Isaac Asimov, Foundation
Facebook AntiSF
Login Form
Why Not Visit

Do you like your SF in audio?
Of course you do. Well, why not visit Beam Me Up Podcast and radio show, often featuring selected stories from AntipodeanSF, run by your host Paul Cole of WRFR.
Next Issue
Cappuccino Twilight
By Ed Errington
The Strike
By Grant Terry
The Goodbye
By E A Fow

The Intercept
By Luis Shalako
The Facts In The Case of K Klown
By Anthony Owens
Searching
By Mark Tremble
Art, Ink
By Jason Fischer & Martin Livings
End of An Era
by Antoinette Rydyr
Popular Stories
Contact The Editor
Ion Newcombe
Editor



PO Box 489
Macksville
NSW
2447
Australia







New Books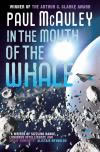 In the Mouth of the Whale

Paul McAuley

A war between human and posthuman civilisations is about to erupt - and it will determine not only the future of the human species, but also its past!

Fomalhaut was first colonised by the posthuman Quick, who established an archipelago of thistledown cities and edenic worldlets within the star's vast dust belt. Their peaceful, decadent civilisation was swiftly conquered by a band of ruthless, aggressive, unreconstructed humans who call themselves the True, then, a century before, the True beat back an advance party of Ghosts, a posthuman cult which colonised the nearby system of Beta Hydri after being driven from the Solar System a thousand years ago.
Read more...