SF Quotes
" The only way of discovering the limits of the possible is to venture a little way past them into the impossible. "
Arthur C. Clarke
Facebook AntiSF
Login Form
Why Not Visit

Do you like your SF in audio?
Of course you do. Well, why not visit Beam Me Up Podcast and radio show, often featuring selected stories from AntipodeanSF, run by your host Paul Cole of WRFR.
Next Issue
Cappuccino Twilight
By Ed Errington
The Strike
By Grant Terry
The Goodbye
By E A Fow

The Intercept
By Luis Shalako
The Facts In The Case of K Klown
By Anthony Owens
Searching
By Mark Tremble
Art, Ink
By Jason Fischer & Martin Livings
End of An Era
by Antoinette Rydyr
Popular Stories
| | | | |
| --- | --- | --- | --- |
| Light Touch Paper, Stand Clear | | | |

Light Touch Paper, Stand Clear the new anthology from Peggy Bright Books features stories from Joanne Anderton, Adam Browne, Sue Bursztynski, Brenda Cooper, Katherine Cummings, Thoraiya Dyer, Kathleen Jennings, Dave Luckett, Ian McHugh, Sean McMullen, Ripley Patton, Rob Porteous and Anna Tambour.
It's available as a printed book for $24.95 (including postage within Australia) from the publisher. See www.peggybrightbooks.com. It is also available as an e-book for only $4.95 per copy (available in mobi, epub and PDF formats) (Order through peggybrightbooks.com)
Author of YA SF novel, The Whale's Tale.
(available through peggybrightbooks.com, and as an e-book through Wizard's Tower Books: www.wizardstowerbooks.com)
Ceramic and Silk artist. See my Celestial Cobbler site: www.celestialcobbler.com
Editor and Ad Girl for Andromeda Spaceways Inflight Magazine. (www.andromedaspaceways.com)
For my view on this strange planet see:
http://edsed.livejournal.com/
New Books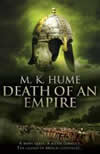 Prophecy: Death of an Empire

M. K. Hume

The second dramatic episode in the heroic life of Merlin.

Merlin's epic quest continues as he journeys to Constantinople in search of his father.

Myrddion Emrys of Segontium is the product of a brutal rape, but when King Vortigern hints at his father's identity, Myrddion embarks on a journey across France and Italy to Constantinople.
Read more...