SF Quotes
" I have been a sore-headed occupant of a file drawer labelled ''Science Fiction'' and I would like out, particularly since so many serious critics regularly mistake the drawer for a urinal. "
Kurt Vonnegut Jr.
Facebook AntiSF
Login Form
Why Not Visit

Do you like your SF in audio?
Of course you do. Well, why not visit Beam Me Up Podcast and radio show, often featuring selected stories from AntipodeanSF, run by your host Paul Cole of WRFR.
Next Issue
Cappuccino Twilight
By Ed Errington
The Strike
By Grant Terry
The Goodbye
By E A Fow

The Intercept
By Luis Shalako
The Facts In The Case of K Klown
By Anthony Owens
Searching
By Mark Tremble
Art, Ink
By Jason Fischer & Martin Livings
End of An Era
by Antoinette Rydyr
Popular Stories
New Books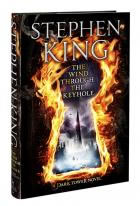 The Wind through the Keyhole

A Dark Tower Novel

Stephen King

For readers coming to the epic bestselling Dark Tower series for the first time - and for its legion of dedicated fans - a fabulous new book about Roland's first quest and a perfect introduction to the series.

For readers new to The Dark Tower, THE WIND THROUGH THE KEYHOLE is a stand-alone novel, and a wonderful introduction to the series. It is a story within a story, which features both the younger and older gunslinger Roland on his quest to find the Dark Tower. Fans of the existing seven books in the series will also delight in discovering what happened to Roland and his ka tet between the time they leave the Emerald City and arrive at the outskirts of Calla Bryn Sturgis.
Read more...