SF Quotes
" Violence is the last refuge of the incompetent. "
Isaac Asimov, Foundation
Facebook AntiSF
Login Form
Why Not Visit

Do you like your SF in audio?
Of course you do. Well, why not visit Beam Me Up Podcast and radio show, often featuring selected stories from AntipodeanSF, run by your host Paul Cole of WRFR.
Next Issue
Cappuccino Twilight
By Ed Errington
The Strike
By Grant Terry
The Goodbye
By E A Fow

The Intercept
By Luis Shalako
The Facts In The Case of K Klown
By Anthony Owens
Searching
By Mark Tremble
Art, Ink
By Jason Fischer & Martin Livings
End of An Era
by Antoinette Rydyr
Popular Stories
Wesley Parish is an SF fan from early childhood. Born in PNG, he enjoys reading about humans in strange cultures and circumstances; his favourite SF authors include Ursula Le Guin, Fritz Lieber, Phillip K. Dick, J.G. Ballard and Frank Herbert. He lives in Christchurch, NZ, is an unemployed Java and C programmer, and has recently decided to become a mad ukuleleist, flautist and trombonist, and would love to revert to being the mad fiddler and pedal steel guitarist.. "Where oh where has my little pedal steel got to ... ?"

New Books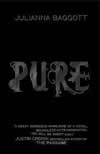 Pure

Julianna Baggott

A stunning coming of age novel set in a richly imagined post-apocalyptic world. For fans of THE PASSAGE and THE HUNGER GAMES this is a fantastic addition to the growing cannon of dystopian fiction.

We know you are here, our brothers and sisters. We will, one day, emerge from the Dome to join you in peace. For now, we watch from afar, benevolently.

Pressia Belze has lived outside of the Dome ever since the detonations. Struggling for survival she dreams of life inside the safety of the Dome with the 'Pure'.
Read more...