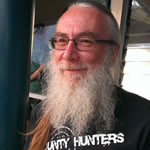 I'm about to head out to my second Natcon, Continuum 13 Triskadekaphilia, in Melbourne, Queen's Birthday weekend, this month.
The recorder is ready to go. The panel teams are already collaborating online. The flights are booked.
I'll be on some of those aforementioned panels, and of course attending others. I'll try not to trip over my feet on the Maskobolo dance floor, and I'll launch a couple of books by long-standing and much-valued contributors to AntipodeanSF.
What a way to spend a long weekend: basking in the warmth that comes from the shared love of genre (despite the season and the location), revelling in the clash of diverse ideas, expecting more questions than answers, and soaking up quiet moments grokking with friends.